The whole world becomes a garden in autumn: the trees dress up in their best, painting the world with rich, warm tones. Unlike their spring counterparts, the season's final flowers no longer sing solo. Instead, they join an entire chorus of color complete with leaf-crunching percussion. The bright sun beckons and the crisp breeze rustles, inviting you out to play.
Before you take them up on that irresistible invitation, though, you have to bundle up properly; you never know when that lovely breeze will turn into the first howling wind of winter. I love fall fashions because they're colorful and practical, and because they let me show off so much of my knitted handiwork! There are so many easy knitting projects to choose from. Fingerless gloves to keep my digits dextrous, shawls to keep my shoulders warm, and scarves to create endless ensembles. With a vibrant infinity scarf pattern on my needles, I know I'll always be stylishly and practically prepared to to explore the great outdoor garden.
Fingerless Gloves Knitting Pattern Grove
One of the few things I dislike about autumn is that my hands are always cold. A good fingerless gloves knitting pattern helps to solve that problem while leaving my fingers free to play with the leaves—or to knit more fingerless gloves!
One Skein Woodsie Gloves
Woodland Fingerless Gloves
Diamond Leaf Mitts
Kaleidoscope Fingerless Mitts
Mulberry Spiral Mitts
Scarf and Cowl Knitting Pattern Orchard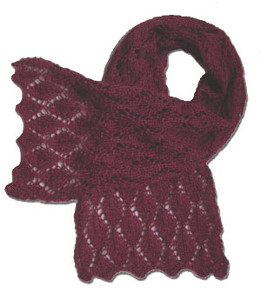 Autumn seems to be the time when everyone decides to learn how to knit a scarf, and with good reason. This is the season when these versatile accessories become functional as well as fashionable. I like my autumn scarf and cowl patterns to be colorful as well as warm. Even when I'm indoors, such a scarf reminds me of the way an ordinary tree can be as pretty as the roses planted next to it.
Burnished Rose Infinity Scarf
Falling Leaves Cowl
Autumn Leaves Scarflette
Maplewood Cowl
The Cherry Leaf Scarf
Forest Fire Cowl
Knit Shawl Pattern Patch
There are some days when a scarf just isn't quite enough. In early autumn mornings, when the air still has some bite, I like to be able to cover my shoulders with a wrap or a shawl. When the day warms up, I just wear it as a scarf. These gorgeous shawls blend perfectly into the season's color palette, making me feel like I'm part of the scenery.
Autumn Rose Shawl
Marigold Lace Shawl
Mystic Forest Shawl
Sunset Shawlette
Natural Leaf Wrap
Cooler weather is here, and the leaf show should be starting soon! What colorful projects have you cast on to celebrate?
Latest posts by AllFreeKnitting
(see all)