While I do love a traditional knit mitten pattern, there's something so liberating about fingerless mittens. Fingerless mittens offer a freedom that regular mittens can't. My fingers are no longer trapped by the fiber shackles of merino wool or alpaca silk. Each of my five digits can roam free and happily experience the soothing chill of a light breeze on a mild winter day. Gone are the days of claustrophobic, sweaty fingers trapped underneath a fiery fortress of yarn.
Fingerless mittens offer the warmth of traditional mittens without their limitations. The range of activities that are suddenly made possible while wearing fingerless mittens is somewhat overwhelming. Imagine trying to unwrap a lollipop while wearing the bulky mittens that your grandmother knit. It's virtually impossible to pick up a penny in your favorite pair of polka dot mitts. Don't even get me started on pushing elevator buttons. The simplest activities make your outdated knit accessories feel like over-sized oven mitts.
After reviewing the many obstacles one faces while wearing traditional mittens, it has become clear that fingerless mittens are the cold weather accessory of choice. Interested in making a pair? Step into the light and read on to find out how to make fingerless mittens with some of our recently added easy knitting patterns.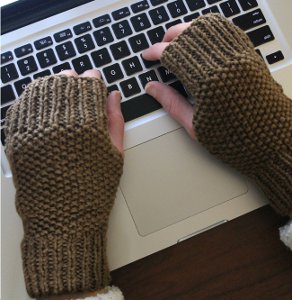 Social Media Mitts – Perfect for texting, blogging, emailing, tweeting, posting, and any other digital activity that requires your fingers, the Social Media Mitts are both technology savvy and stylish.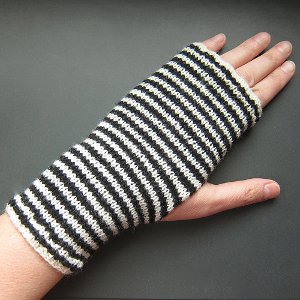 Breton Striped Handwarmers – The traditional Breton black and white stripe is given an updated twist in this stylish and sophisticated knit fingerless glove pattern.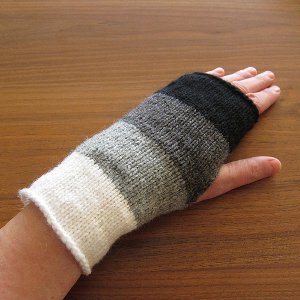 Knit Ombre Handwarmers – Get on board the ombre bandwagon with these trendy and functional knits. The Knit Ombre Handwarmers are darling neutral accessories you'll be glad to have this winter.
Amethyst Fingerless Mitts – These gem-colored mitts are a great way to add a burst of bright purple into your wardrobe. These lovely knit accessories are a fun way to don February's birthstone.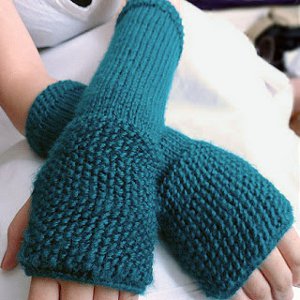 Seed Stitch Handwarmers -Simple yet classic, these wonderfully textured mitts are sure to become your go-to pair this winter. The Seed Stitch Handwarmers are knit with stockinette and seed stitch, so they make a great practice pattern as well.
Jack Frost Fingerless Mitts -These blue beauties feature a lace stitch design that mimics the look of early morning ice crystals along a windowsill. These pretty knits are a lovely way to stay warm in style.
BONUS! For knitters who like to take their projects with them, the Rolling Yarn Tote from Everything Mary is a must have. This stylish, practical tote has a suitcase like construction and is perfect for storing you needles, skeins, pattern books, and more. Enter here to win this free giveaway!
Which do you prefer: traditional mittens or fingerless mittens?
Latest posts by AllFreeKnitting
(see all)