Alright, I know it sounds a little strange to be knitting fingerless gloves during spring, but let's face the facts. It has been cold, cold, COLD. At this time last year I could see the crocuses starting to pop their little heads out of the soil in my backyard. Today when I looked out the window I saw a
fresh blanket of snow. I know lately I've been writing a lot about spring, but it's more of a coping mechanism than anything at this point. Most days, I'm so cold I can barely feel my toes.
Although it's the middle of March, it feels like the middle of February. It's hard to dress for warmth when you want to celebrate the colorful, vivacious spirit of spring. The trick to keeping your spring spirits high is to don the bright hues anyway! Shove all those dark winter mittens and gloves to the back of your closet and refresh them with some brightly colored cold weather accessories to keep you warm through the home stretch of winter. Petal-hued fingerless gloves are the perfect remedy for those longing for spring.
Color isn't the only way to infuse spring into your winter gear. Try adding flower shaped buttons or adding some creative floral embroidery to really make those mitts pop. A light and lovely lace pattern also adds a special spring touch. Any one of the six easy knitting patterns below are sure to lift your mood even if the temperature doesn't budge.
How to Knit Fingerless Gloves for Spring: 6 Fresh Ideas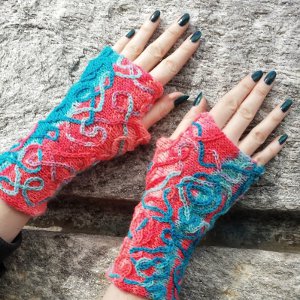 Streamer Mitts – The whimsical spiral design and colorful hot-to-cold effect of the yarn is what sets these knit fingerless gloves apart from any other pair. The designer of these gloves intended the loop-the-loop squiggles to be an easy chain of surface crochet, but stitched embroidery would also create the same effect. The random, carefree vibe of these mitts makes them a great option for spring.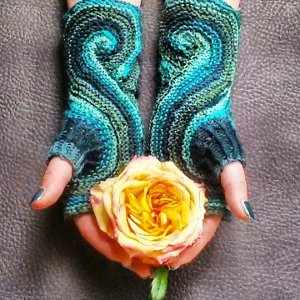 Swan's Head Mitts – These gorgeous, spiral knit fingerless gloves are a beautiful way to show off impressive knitting skills. Variegated yarn allows the lovely figure-8 design to show through best, but a solid color yarn would offer subtle elegance as well. The undulating design combined with the blue and green color palette of these knit fingerless gloves makes them a refreshing, creative accessory sure to dash away winter dreariness and boredom.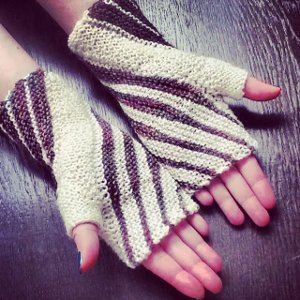 Streamlined Fingerless Mitts – The bright white juxtaposed with the dark violet color of these knit fingerless gloves makes a great spring option. These aerodynamic mitts give off a fun, futuristic vibe. Pair them with a leather jacket for a fierce look or don them with a light and lacy scarf for an interesting "opposites-attract" fashion statement.








Bluebell Lace Fingerless Mitts – I don't know about you, but when I think about spring, I immediately think lace. These beautiful blue knit fingerless gloves are the quintessential pattern for those breezy first months of spring. Charming and delicate, yet thick and warm, the Bluebell Lace Fingerless Mitts are the perfect mix of style and function.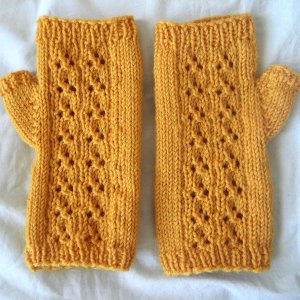 Golden Wheat Mitts – The beautiful eyelet pattern combined with the cheerful yellow color make the Golden Wheat Mitts a spring essential. These adorable knit fingerless gloves are a great way to bring a little sunshine to your life – even if the sun isn't out.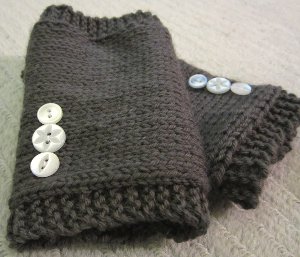 Spring Charm Hand Warmers – An easy way to spring-ify any knit accessory is to add a fun floral button. The Spring Charm Hand Warmers are a basic knit fingerless glove pattern with three sweet, decorative buttons with a tiny engraved flower design.
Which one of these patterns is your favorite?
Latest posts by AllFreeKnitting
(see all)