Midwestern knitters, are you getting excited for STITCHES Midwest? It's the big to-do for all things knitting, running August 4-7 in Rosemont, IL.
Your pals at ILikeKnitting have been attending this conference for years. It's a great opportunity to take classes, learn some new knitting tricks, find out all about the latest trends, and meet up with some other corn-bred knitters. 😉 Check out this guide to all events and classes at STITCHES Midwest.
Last year, we got some great yarn color inspiration at the show. We attended a variety of classes including beginning weaving class, an almost-instant scarf class, and a class on color theory to sample what STITCHES Midwest had to offer. There were classes for everyone, even those who didn't know how to knit at all.
We're really excited to be sponsors of the event this year, and even more excited to hang out at booth #509 and meet our readers! If you're attending, definitely stop by. If meeting up with us isn't exciting enough (haha) then we have an amazing incentive – a grand prize giveaway!
We'll be giving away a yarn basket at our booth (worth $500), plus we're having a discounted subscription special on our magazine, ILikeKnitting.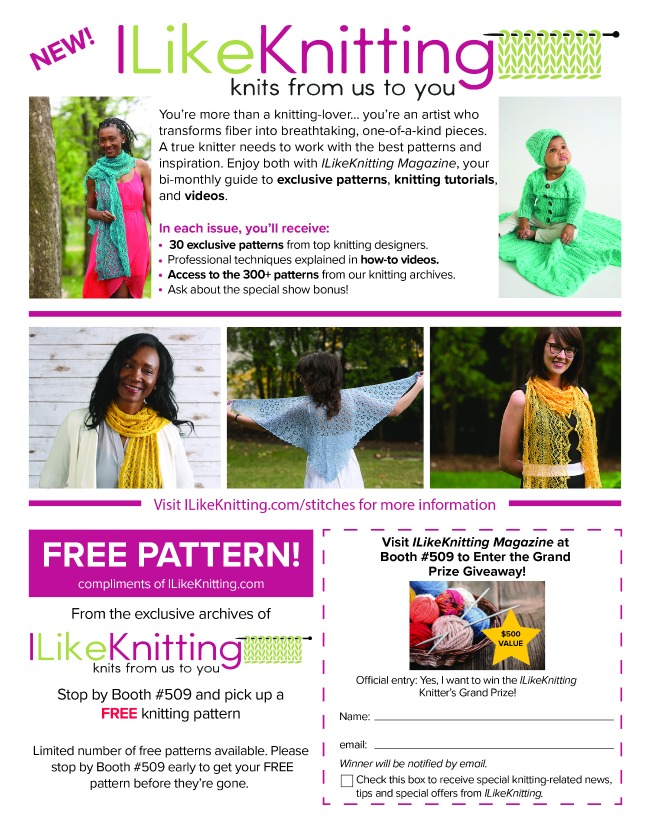 Stop by the ILikeKnitting booth and enter to win the $500 grand prize giveaway and receive a stunning FREE knitting pattern! We hope to see you there.
Are you attending STITCHES Midwest?
Latest posts by Stitch&Unwind
(see all)