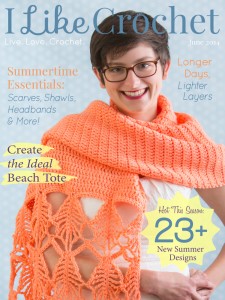 Can you believe that winter is nearly upon us? I can already feel a slight chill to the air and the sun is starting to set a little earlier each day. In less than a month, we'll have to turn our clocks back an hour!
When the seasons start to change, I always like to look back on the warm, sunny days of summer. My memories of sun-filled days at the beach and outdoor concerts always seem to help get me through the cold winter months. Sometimes, I wonder if I should just move to California where it's sunny all the time!
Instead of moving halfway across the country, however, I think an easier (and cheaper) option would be to simply crochet some summer-inspired patterns. If you're sick of the same old garden hats and lacy crochet scarves that are all over the Internet, then why don't you check out the exclusive patterns inside I Like Crochet? This new, digital magazine is brought to you by the same folks that bring you AllFreeCrochet, AllFreeKnitting, FaveCrafts, and this blog, Stitch&Unwind.
I Like Crochet publishes six times per year. With each issue featuring 30 new patterns and six new issues per year, that means that you get 180 new patterns with a one-year subscription. Choose from the following subscription options below:
Website and Tablet Subscription: $34.97 (the best value!)
Website Access Only: $29.97 for a 1-year subscription
Tablet Edition: $19.97
Inside the June 2014 issue, you'll find exclusive summer crochet patterns such as the (clockwise from top right):
Subscribe to I Like Crochet today for access to these exclusive crochet patterns and more!
What's your favorite summer memory? Share it with us below!
Latest posts by AllFreeCrochet
(see all)