Get your wardrobe ready for the holidays with these glamorous crochet patterns from I Like Crochet. The holidays are a magical time of the year, which also means that there will be plenty of special occasions, too! And of course, special occasions call for special outfits, as well. Instead of blowing your paycheck at the mall on the latest trendy dress, check out the special crochet patterns inside I Like Crochet.
From holiday parties to New Year's Eve celebrations, there are endless times to put on the ritz this season. Luckily, there are plenty of opportunities with crochet to incorporate a little bit of glitter and glam into your crochet patterns.
Inside the December issue of I Like Crochet, you will find a handful of projects that will help you shine bright like a diamond. These Five Glam Projects that Dazzle include (clockwise from top right, above):
For access to these crochet patterns, sign up for an I Like Crochet subscription today.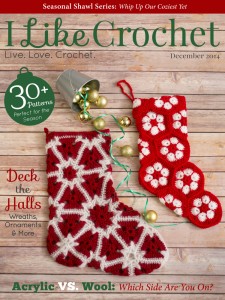 I Like Crochet publishes six times per year. With each issue featuring 30 new patterns and six new issues per year, that means that you get 180 new patterns with a one-year subscription. Choose from the following subscription options below:
Website and Tablet Subscription: $34.97 (the best value!)
Website Access Only: $29.97 for a 1-year subscription
Tablet Edition: $19.97
Getting "Dolled Up": Love it Or Hate it?
Latest posts by AllFreeCrochet
(see all)