Did you know that March is Women's History Month? With the start of a whole month dedicated to women just a couple days away, it got me into the girl-power frame of mind. There are a million and ten reasons
to celebrate being a woman in the world today, and the way we present ourselves and the activities we enjoy are all ways to show it. It may sound silly, but something as simple as a pretty knit scarf pattern can make a huge difference in the way we carry ourselves and approach the day. When you feel good inside, you look even better on the outside.
Knitting is one of those enjoyable, yet also emotional activities that allow us to reflect as we create. This March, celebrate every bit of who you are with these lacy and lovely scarves, shawls, and knit cardigan patterns. The patterns below are all feel-good knitting patterns that bring out every woman's inner beauty and celebrate her full potential as a human being. Simply speaking, the patterns below are fit for the goddess in all of us.
Dreamy Knit Scarf Patterns, Shawls, & More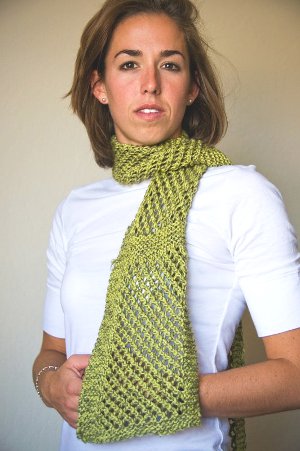 Dreamy Spring Scarf (shown on right) – This is the quintessential spring debut scarf. A soft mesh lace collides with a dewey green fiber to create a beautiful basic for everyday wear.
Fruit Loop Shawl (featured image) – This gorgeous ombre knit shawl pattern is the perfect flirty finishing touch for a strappy dress or lightweight tank top.
Gossamer Infinity Scarf – You won't believe how insanely gorgeous this lace scarf is.
Victorian Elegance Cardigan – There's an element of mystery to this charming knit cardigan pattern. A flattering construction combined with a sweet scalloped hem makes this cardigan a true beauty.
Romantic Lace Shawl – There's something about wearing lace that brings out every woman's inner beauty, and this knit shawl pattern is no exception.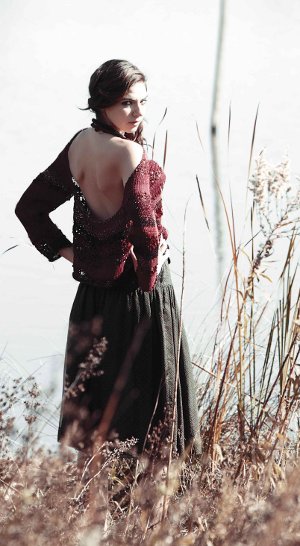 Darling Handkerchief Cowl – Flirty and unique, this knit cowl is a darling statement on a breezy spring day.
Goddess Lace Ladder Scarf – An AllFreeKnitting reader favorite, the Goddess Lace Ladder Scarf boasts a classic design with soft lace touches.
Weeping Willow Cowl -This tragically beautiful knit cowl pattern is a light and airy way to decorate your neck.
Tao Silk and Parisienne Scarf – Transport yourself to the City of Lights in this vintage lace scarf.
Arrowhead Lace Cowl – Delicate yarn is spun together in a modern arrowhead stitch design.
Goddess Camino Pullover (shown on right) – Bohemian beauty at its best! The Goddess Camino Pullover is a gorgeous burgundy knit sweater top you'll love being able to say you made.
Crepidula Shawl – Celebrate your spirit in this naturally beautiful spring shawl.
Basque Lacy Tee (shown on right) – Lighter than air ruffles and sweet detailing collide in the mesmerizing Basque Lacy Tee.
Diamond Cuff Cardigan – Charming stitch work and classic design win our hearts in this beautiful knit cardigan pattern.
Jane Austen Lace Scarf – Portray your favorite Jane Austen heroine in this gorgeous lace knit scarf pattern.
Bonus!
Anzula Hand Dyed Dreamy Yarn
Gifted by: Anzula
We are giving away two skeins of Anzula Hand Dyed Dreamy Yarn to one lucky winner.  The deadline to enter is March 5, 2014 at 11:59:59 PM Eastern Time. Giveaway has ended! Thank you to all who entered!
Which of these dreamy goddess patterns is your favorite?
Latest posts by AllFreeKnitting
(see all)