Although I'm not particularly fond of the winter season, I do find joy in a few cold weather happenings. Coffee always tastes a little better come December 1st, pre-Christmas snowfalls are a festive little pick-me-up, and the glow of twinkling lights always puts me in a good mood. However, my favorite part about winter is the fact that I can bundle up without overheating. As a gal who enjoys being swaddled in layers year-round, this is a huge deal. There is no better thing in the world than wrapping yourself in a cozy knit shawl and reading a good book without breaking into a full sweat.
Personally, I wear shawls year-round. They're the perfect combination of elegance, comfort, style, and bohemian mystique. And like I said earlier, I thoroughly enjoy layers. I love shawls for their ability to dress up an outfit even when you're not particularly jazzed about pulling yourself together. Pair a simple top and pants with a shawl and you've got a romantic little Jane Austen thing goin' on. Not to mention, wearing a knit shawl is like wrapping yourself in a warm hug. And during the winter, I need a lot of hugs to keep me going.
I've decided to go to the trouble for you and curate a selection of cozy knitting patterns full of elegance, warmth, and divine comfort. Even though it maybe be miserable outside (and probably will be for another four months), there's nothing like the great indoors. Grab those needles and bang out some of these warm and luscious winter shawl patterns.
Winter Elegance: Cozy Knit Shawl Patterns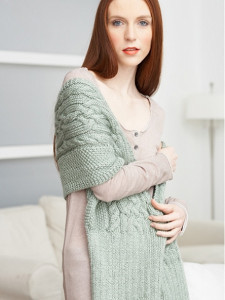 Texture Stitch Wrap – As the name suggests, the Texture Stitch Wrap is a great way to take your blah outfit to another level. Simple yet satisfying, this lovely knit shawl pattern is sure to delight knitters of all skill levels.
Unbelievably Easy Lace Shawl – Winter lace never looked so good. This charming knit shawl pattern is the perfect finishing touch for a lovely frock or casual sweater set.
Crescent Shawl – The Crescent Shawl is the result of a gorgeous stitch design coupled with a soothing dusty rose color. Stitch this beauty up before your fingers freeze!
Oversized Shawl –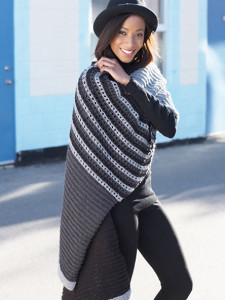 For the days when bigger is better, the Oversized Shawl is a comfy girl's best friend. Wrap yourself in this insanely cozy knit shawl pattern and feel your troubles melt away.
Celtic Cables Wrap – Chic and stunning, the Celtic Cables Wrap proves that some styles will never fade with time. Traditional cable stitches and a calming sea foam color collide to form a garment that's utterly delectable.
Greyscale Wrap – Fifty shades of fashion abound in the Greyscale Wrap. This gorgeously simple knit shawl pattern is perfect for girls who hate color…or who just need a neutral staple for their wardrobe.
Evening Shadows Shawl – It doesn't have to be evening (or even the afternoon!) to wear this knitted beauty. The Evening Shadows Shawl is a great example of how a delicate lace pattern can be surprisingly warm…not to mention stunning.
Chunky Chocolate Shawl – Have you ever wanted to dive into a pool of silky chocolate mousse? Erase any fears of drowning in the second best option: wearing the Chunky Chocolate Shawl!
Romancing the Shawl – One of my absolute favorite patterns on AllFreeKnitting.com, this bohemian beauty of a knit shawl pattern is full of color, style, and warmth.
What is your favorite thing to knit in the winter?
Latest posts by AllFreeKnitting
(see all)