Whether you just started knitting or have been knitting for years, all knitters have this in common: a huge collection of yarn.  While a large stash allows to nearly unlimited creativity and the ability to start your next project the day you find it (without taking a trip to your local yarn shop), sometimes, you need to get rid of the extra bulk.  When that time comes, you need to find quick, easy knitting patterns to dwindle down your yarn collection — also known as stashbusters!  How do you know when you're in need of some stashbusters?  Here are a few telling signs: your craft room's yarn section is overflowing into the living room, you measure the amount of yarn you have by the hundreds, you are literally are unable to locate a room in your house that doesn't have at least a few skeins of yarn in it.  If any of these describe you, then you're in the right place.  While you've heard of knit dishcloths and scarves being used as stashbusters, this selection of patterns offers some unique ideas for knitters who are eager to use up all those odds and ends from their stash.  The best part is, these projects are not only easy, but they're super fast to make.  No matter if you have a weekend of free time or just a few hours to spare, you'll find an ideal project for your stash in this list of patterns below.
Unexpected Stashbuster Ideas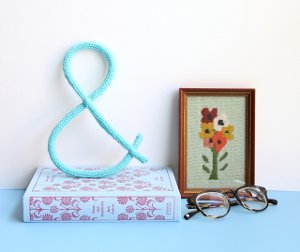 1. Awesome Amersand Wall Decoration: With some colorful yarn and a bit of wire, you can create your own knitted symbol to display proudly on a book shelf or against a plain wall.  This unique project also looks great hung up on walls, and makes a thoughtful gift idea for any literary aficionado.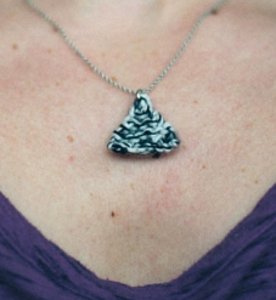 2. Petite Pyramid Necklace: Whether you knit one triangle or ten, this simple knitting pattern only takes minutes to complete.  Get creative and start making a knit bracelet or earrings to match your one-of-a-kind necklace.  For a bolder accessory, use bright hues from your stash to finish the ultimate statement piece.
3. Stashbuster Pin Cushion: Make sewing even more fun with this Stashbuster Pin Cushion. This quick knit pin cushion is perfect for all of that extra yarn you have lying around.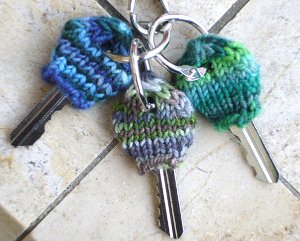 4. Creative Key Cozy: Don't you hate it when you have to struggle to find the key to the front door?  Say goodbye to frustrating nights searching for the right key with the help of these ingenious key cozies.  Just grab different colors from your stash and give each key its own unique cover.
Tell us: How do you use up your scraps?
Latest posts by AllFreeKnitting
(see all)