There are many great things about spring; but one of my favorite things the warming weather indicates is the opening of the local Farmer's Market.  I love walking around the booths and looking at all of the things grown within a short distance of where I live.  It's a great place to pick up some really interesting ingredients, as well as inspiration for your next project.
One of the most practical project ideas suggested by the Farmer's Market experience is a tote bag.  Yes, a cute, simple knit tote bag is one of the best things you can make to rock your local market.  Most Farmer's Markets are more enjoyable when you bring your own bags, especially if you plan to make multiple purchases from several different stalls, and nothing says "sustainable" like a hand-knit bag.
We've collected an assortment of durable, yet stylish patterns that will make going to the market or grocery store a real treat.  Popping your purchases into a knitted bag is one of the best ways to show off your fabulous knitting skills.
Easy Knit Tote
Strut your stuff with this cute knit bag.  You'll be excited to head out to the grocery store with the Easy Knit Tote on your arm.
Reusable Grocery Bag
Sturdier than you'd expect, the Reusable Grocery Bag will become a go-to for any shopping trip.  Use leftover yarn to help tidy up that ever-growing stash.
Green Grocery Bag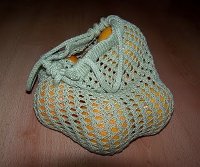 If you need a handy way to store or carry produce, the Green Grocery Bag is your must-make project.  This handy little knit tote pattern will help make shopping a breeze.
Hexagonal Market Bag
You won't be able to make enough of these Hexagonal Market Bags.  A functional design merges with a chic look to create a bag that anyone would love to use.
Knitting Plastic Grocery Bags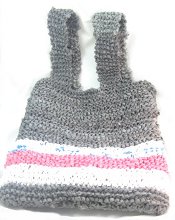 Do you have a ton of plastic shopping bags squirreled away somewhere in your house, waiting to be used in some way?  Fans of up-cycling will love this tutorial for Knitting Plastic Grocery Bags.  You can change those plastic bags into a useful, attractive shopping bag in no time with this easy knitting pattern.
Do you use re-usable grocery bags when you go shopping?
Latest posts by AllFreeKnitting
(see all)