Welcoming a new life into the world is always an exciting event, cause for celebration and joy.  Many knitters, upon hearing news of the blessed event, will follow their gut reaction and begin knitting like crazy.  But what do you make for the summer baby, born into a world where a sweater and thick woolen baby booties are rendered unnecessary by the elements?  Well, I've looked in to the matter, and I can tell you that there are many lovely patterns out there just for babies in the summer.
If you're preparing to welcome a new family member, then these seasonal baby knitting patterns would make perfect gifts to the expectant family.  Even in the winter, these bright and cheerful patterns will be a welcome sight.
Knitting for Baby: Summer Fun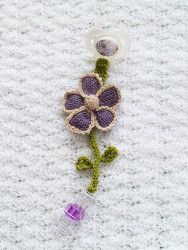 Add a bit of color to your baby's outfit with the Blooming Pacifier Clip.  You'll never loose your baby's pacifier with this lovely project to keep it in place.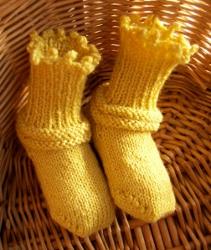 Dress your baby in flowers with the Daffodil Socks!  These bright baby booties will be a charming addition to any baby outfit.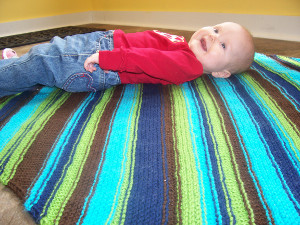 Make a baby blanket that won't soon be forgotten with this Basic Un-Baby Blanket pattern.  These great colors will keep your baby's room filled with sun year-round.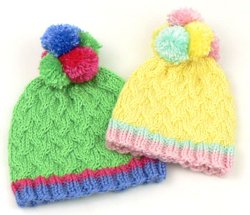 These cute baby hats capture the whimsical nature of floating through the sky in a hot air balloon.  With the Hot Air Balloon Hats, your baby will be ready to go anywhere.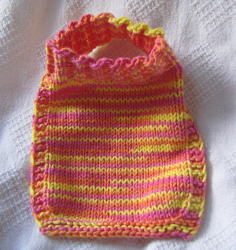 Create a really useful gift for new parents– a bib that won't fall off.  the Easy Stay-On Bib is a quick project that will be useful at any time of the year.
What is your favorite project to knit for a baby?
Latest posts by AllFreeKnitting
(see all)