I love knitting for men in the spring. Sound strange? Were you thinking I'd say I enjoy knitting for babies during Christmastime (along with 98% of knitters over the world)? Don't get me wrong, I love cold weather knitting for tiny
tots just as much as the next fiber enthusiast, but there's something about masculine spring knitting patternthat really get my needles clicking. I think it has something to do with the fact that both of my brothers' birthdays are in the spring.
Growing up, their birthdays were always happy events with all of my family milling around the backyard waiting for hamburgers to grill and potato salad to be served. Everyone was just happy to be outside after a long, cold winter. Some of my favorite knitting patterns have been presents that I have knit for them. Attractive knit sweater patterns or streamlined knit scarves. There's something soothing and methodical about knitting for men. The lines are cleaner and the structure is simplified. There's no need for fussy appliques or crazy fashion yarn that gets tangled in your needles. Knitting for my brothers has always been a mindless, yet reflective process.
The key to knitting for men is to keep it simple. Choose versatile neutrals and patterns with classic designs. Patterns are fine, as long as they're simple and don't compete with other details. Bold solid colors and light colored neutrals are great options for spring and can be carried over into other seasons as well. The bottom line is to not over-think it. If it seems too fussy, it probably is. Here are some of AllFreeKnitting's newly added spring knitting patterns for men.
Knitting for Men: Fresh Spring Patterns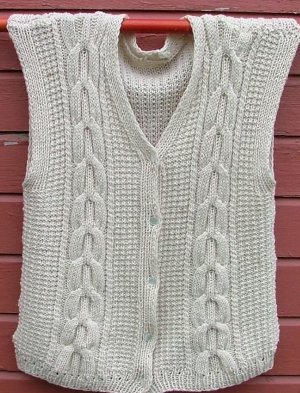 Fibonacci Scarf (featured image) – This handsome striped scarf is a light colored neutral you can't go wrong with.
Men's Cable Knit Vest (shown on right) – This classic cable knit vest is perfect for layering over button downs or underneath blazers.
Handsome Gray Vest – This charcoal-colored knit vest is easy to dress up or down for a variety of occasions.
Men's Chevron Knit Cardigan – Inspired by the American Southewest, this knit cardigan sweater is a great way to show off a fresh spring color palette.
Sapphire Algorithm Scarf – This classic knit scarf pattern has a timeless stitch design in a beautiful dark blue color.
Men's Zipper Sweater – This handsome knit sweater pattern has an interesting texture with a slimming shape.
Handsome Ribbed Mitts – Casual and versatile, these fingerless gloves are perfect for any situation that calls for his fingers.
The Perfect Men's Scarf (shown on right) – This attractive knit scarf pattern is an absolute classic.
Which of these patterns is your favorite?
Latest posts by AllFreeKnitting
(see all)