Back before they invented those blankets-we-shall-not-name with armholes, people simply draped an afghan over their lap. These perfectly sized afghans are affectionately called lapghans, and they are my favorite crochet project. After all, they're perfect for curling up in your favorite seat with a book, crochet project, or the TV remote. You're kept warm but not hot, and you look inviting to those who would like to snuggle with you (like a beau, cat or dog). Lapghans, I tell you! They're the best.
Lapghans are really easy and quick to work up, too. They're smaller than your average afghan, so you won't mind making them a little prettier. It's the perfect project for trying out a stitch you're unfamiliar with, because if you don't like it, you won't have to keep it up for very long. They're also great for travel! Make yourself a lapghan for your next plane or car trip. You'll feel infinitely more comfortable with your lovely lapghan over your legs. Snuggly!
Here's our favorite lapghans from AllFreeCrochetAfghanPatterns.com that will have you sitting pretty.
10 Lapghans You'll Love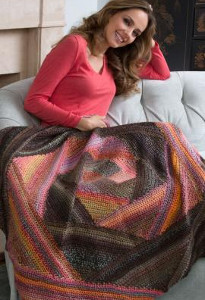 Which lapghan pattern is your favorite?
Latest posts by AllFreeCrochetAfghanPatterns
(see all)