Christmas is around the corner, and you're going to need a miracle to get everything done on time. Luckily, Santa delivered a Christmas gift a bit early. Here are 28 free crochet angel patterns and knit ideas that serve perfectly as last-minute gifts and decorations. Though they're all angels, the versatility in this collection helps cover everyone on your list, from the avid cook to the youngest member of your family and everywhere in between.
Make your home merry and bright this Christmas with the presence of angels from the tip of the tree to the presents underneath. With the dainty crochet projects and glowing knitted garnishes, you can turn your everyday abode into a magical space and put smiles on the faces of those you love.
This fabulous list includes simple crochet patterns perfect for beginners and more difficult designs ready to challenge even the best hookers and knitters. You can't go wrong with a free crochet pattern or knit design that results in a heavenly angel project.
Angel Crochet Dishcloth Patterns + Knit Dishcloth Pattern
Is there anything better than pretty crochet projects that also serve a purpose? These dainty angels make the perfect homemade Christmas gifts because they are gorgeous, festive, and can be used year-round. Anyone who spends a lot of time in the kitchen would love to have sweet dishcloths to decorate the space. This selection of crochet dishcloth patterns features colorful angels, classic ones, simple crochet patterns, and more challenging designs. The variety is great, allowing you to find the perfect project to make.
DIY Christmas Decorations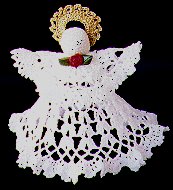 Sure, you can decorate your living room with store-bought tinsel and ornaments, but imagine the love that would fill your home if all of your Christmas decorations were handmade. They can be, and in no time at all with these incredible free crochet angel patterns. There are also some fantastic free knit angel patterns for those of you who prefer needles to a hook.
Crochet Shawl Patterns
Give the gift that keeps on giving with these stunning angel shawls. Whip one up before the 25th of December to see a real smile on the recipient's face.
Other Homemade Christmas Gift Ideas
Free crochet patterns have never been this fun. Wrap them up and put them under the tree for the best Christmas morning yet. Some of these darling designs are there to look pretty and others serve brilliant purposes, like dressing up an otherwise unsightly air freshener. Homemade gifts have that extra something special: love.
Do you prefer Santa, Angels, or Reindeer when it comes to symbols of Christmas?
Latest posts by AllFreeCrochetAfghanPatterns
(see all)