Although it was very long ago, I still remember the frustration I felt as a beginning knitter. I was so excited to be able to knit as quickly as my mom could. She made it look so easy and effortless with her
click-clacking needles and flying fingers moving gracefully through colorful yarn. I was young and didn't have that much patience, but thankfully my mom did. She taught me to knit the same way she did – with knitted dishcloth patterns. Why knitted dishcloth patterns? Well, they're perfect for beginning knitters for a number of reasons. First of all, a knitted dishcloth is the perfect size to get the hang of a certain kind of stitch, whether it's garter, stockinette, or whichever other motif you're trying to master. Secondly, a knitted dishcloth pattern teaches the importance of tidy knitting. It offers beginning knitters the chance to learn the fundamentals of knitting before they move on to more complicated projects. As knitting designer Staci Perry from Very Pink says, "For knitters, knitting a dishcloth is similar to a chef cooking a perfect egg. It is a chance to really focus on basic skills and do them well. In knitting, that means beautiful stitches, even edge tension, and tidy finishing work."
So, whether you're just starting out or want to brush up on some knitting basics, there's a knitted dishcloth pattern in this list that's perfect for you.
Learn a New Stitch with 6 Easy Knitted Dishcloth Patterns
Knit and Purl Dishcloths – These Knit and Purl Dishcloths are simple and attractive. Using just knit and purl stitches, this knit dishcloth pattern creates an easy dishcloth with enough detail to be interesting and enough texture to be functional.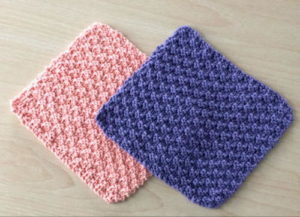 Easy Farmhouse Kitchen Dishcloths – These Easy Farmhouse Kitchen Dishcloths are the perfect knitting pattern for beginners. Using only knit and purl stitches, this free knitted dishcloth pattern is easy enough for even beginning knitters to master quickly while still incorporating enough detail to make them fun and interesting.
Stained Glass Dishcloth – Keep kitchen clutter under control with the cheerful Stained Glass Dishcloth. This colorful cloth will add a splash of brightness to your kitchen, and the textured cloth is perfect for scrubbing dishes.
Spring Seed Stitch Dishcloth – The bright, cheerful colors and fun, bumpy texture of the Spring Seed Stitch Dishcloth makes doing the dishes a less boring task. This cute, simple knit dishcloth pattern is a great way to master the seed stitch or warming up your needles for more complicated patterns.
Super Stockinette Dishcloth – Before you can move on to more advanced patterns, mastering the stockinette stitch is an absolute must. This neat and tidy knitted dishcloth pattern will help you do exactly that.
Traditional Garter Stitch Dishcloth – Fanned out like a deck of cards, this set of cute and colorful knitted dishcloth patterns shows how easy it is to add personal style and handmade flare to your kitchen or bathroom.
Do you remember learning how to knit? How did you learn? Who taught you?
Latest posts by AllFreeKnitting
(see all)