There are so many different places these days to get your crochet inspiration from and find your patterns. Aside from the internet (sites like AllFreeCrochet) and online-only digital magazines (I Like Crochet), good old fashioned books remain a popular source for many knitters and crocheters to find their next project.
The nice thing about books is that more often than not, there will be an index, a glossary, a list of common abbreviations, and also brief stitch explanations and tutorials all within the same book. Although the Internet obviously provides endless tips, tricks, tutorials, and crochet instructions, sometimes it's nice to have all of that in the place, right at your fingertips.
In case you were not aware, there are always a ton of new books being published on a daily basis. From independent bloggers, celebrities, and even companies, there's always a new crochet pattern book to choose from. Here at AllFreeCrochet, we are extremely lucky to be able to receive review copies of many of these books (find all of our book reviews here). In turn, we are able to give these away to our readers! Be sure to check our giveaway page often, as we are always hosting at least two giveaways at any given time.
Our friends at Leisure Arts have kindly shared with us a slew of recent crochet books with us. Find some of the most recent Leisure Arts book reviews below, and stay tuned for even more titles to be reviewed (and yes- given away) very soon! Visit their company profile here to learn more about Leisure Arts and to find a complete list of their product reviews on AllFreeCrochet.
Leisure Arts Crochet Pattern Books: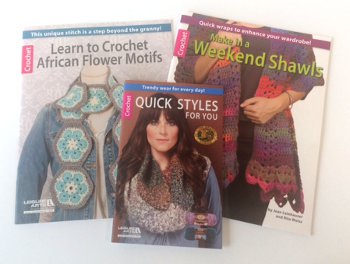 PLUS: Enter to win a Leisure Arts Book Bundle. One lucky winner will receive one copy of each of the following: Quick Styles For You, Make in a Weekend Shawls, Learn to Crochet African Flower Motifs. The deadline to enter is August 27th, 2014 at 11:59:59 p.m. Eastern Time. Enter here to win!
Where do you get your crochet inspiration from?
Latest posts by AllFreeCrochet
(see all)