I'd like to introduce our newest crochet designer Lindsay Younce. Although Lindsay only has two patterns on the site so far, they have quickly become my favorite crochet designs. Lindsay began crocheting a little over 12 years ago when her step mother-in-law showed her how to make a granny square blanket. Lindsay is left handed, and it helped her to mirror her step mother-in-law, (she is right handed) while sitting across from her. She mainly makes crochet wear for little girls, but also has some crochet patterns for boys.
You can read all about Lindsay and check out her other crochet designs on her designer profile.
My Favorite Pattern of Lindsay's: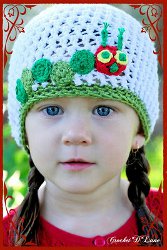 The Very Hungry Caterpillar Hat – When you see this cute crochet hat, what do you immediately think of? For me, the memories flood back of when I used to read this when I was a kid. What's even greater is that now I'm reading it to my little girl! The Very Hungry Caterpillar truly is a great children's book which makes this crocheted hat even more special. Make the hat and give the book as a fun gift set to any child or even adult. You're never too old to read classic books and everyone is equipped to wear hats.
Check out Lindsay's designer profile to see her other awesome pattern.
Will you make this adorable crochet hat?
Latest posts by AllFreeCrochet
(see all)