There have been a few warm days when summer has tried to creep back into our lives, but lately it looks like fall is here to stay. The leaves are finally starting to turn, it is now cold enough to order a pumpkin spice latte without embarrassment, and my chunky knit sweaters are finally getting some action. Every yarnie and fiber enthusiast knows that autumn is the kick-off to cold weather knitting, and I for one am more excited than the day I stuffed the last of my summer t-shirts into storage.
To celebrate, we've teamed up with the skillful artisans over at Lion Brand Yarns to create some delectable, easy knitting patterns that are perfect for autumn. New Favorites from Lion Brand: 15 Free Knitting Patterns for Scarves, Afghans, and More free eBook is a tasty treat for knitters who have been craving some fresh autumn designs all summer long. We've compiled a scrumptious collection of cozy knit sweaters, gorgeous knit afghan patterns, trendy hats, and eye-catching scarves. These seasonally appropriate patterns will help you re-discover your love of knitting and start off the season with a bang.
Download the New Favorites from Lion Brand: 15 Free Knitting Patterns for Scarves, Afghans and More eBook for free!
So what kinds of knits did we include in this awesome eBook? We've decided to give you a sneak peek at two of the patterns from the collection. From cozy scarves and hats, to fashionable afghans and baby cardigans, you'll discover everything you need to make your autumn knitting wonderfully satisfying.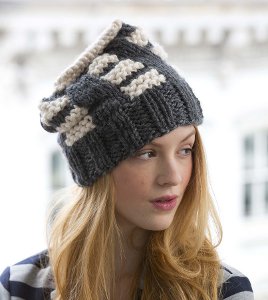 Driggs Avenue Hattitude: The Driggs Avenue Hattitude is one of my favorite patterns from the collection.  This cool knit hat pattern is the perfect laid back accessory to finish off that cool, relaxed vibe you're going for. The pattern is a slouchy, chunky knit design that features a ribbed brim and a striped, lattice style top. I love the texture and feel of this hat, but my favorite part is that the gray and cream colored yarns make it a great neutral to pair with any outfit.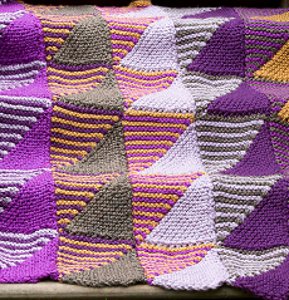 Mountain Mists Afghan: I happen to adore purple, so the Mountain Mists Afghan is definitely on my knitting wish list. This gorgeous knit blanket pattern celebrates the beauty of purple mountains majesty by incorporating multiple shades of plum, violet, and lavender in an alternating half square design. The bold and beautiful stitch work makes this afghan  a great statement piece for your living or family room. The Mountain Mists Afghan has the same color scheme as my room, so I think it'd a beautiful, warm winter blanket to display at the end of my bed.
Convinced yet? To find even more fall-worthy knits, download your free copy today!
BONUS:
We're also giving away a tote full of yarn from Lion Brand. Find out how to enter this exciting contest before it's too late.
Tell us: Which pattern do you like more, the Driggs Avenue Hattitude, or the Mountain Mists Afghan?
Latest posts by AllFreeKnitting
(see all)