We've all done it – held your smartphone at arm's length and snapped a picture of yourself using the convenient front-facing camera. There's no doubt that the "selfie" has become a viral phenomenon and it's here to stay. In fact, it's even an official word the dictionary; if you look it up in the Merriam-Webster, you will find the following definition: "(n., 2002): an image of oneself taken by oneself using a digital camera especially for posting on social networks."
Lion Brand has decided to put it's own twist on the #selfie phenomenon. Instead of taking a selfie, why not take a #scarfie? As knitters and crocheters, we take much pride in what we create, so why not take this opportunity to show off our beloved creations? It's a great feeling to wear something that we made ourselves, so let's capture that feeling in a photograph. Thus, the #scarfie was born.
Lion Brand is asking knitters and crocheters everywhere to show them your best #scarfie! To do so, simply take a picture of yourself wearing your latest and greatest pattern and share it on social media. You can post it on Facebook, Instagram, YouTube, Twitter, your blog, or any other social site – tag your post with @LionBrandYarn and remember to use the hashtag #scarfie.
Lion Brand will share your #scarfie on their site, along with #scarfies shared by other members of the knit and crochet community.
For pattern inspiration, check out some free scarf patterns at AllFreeCrochet or AllFreeKnitting. Lion Brand will also be sharing pattern ideas and themes over the coming weeks and months.  Let's help make #scarfie go viral and hopefully it will become a trending topic!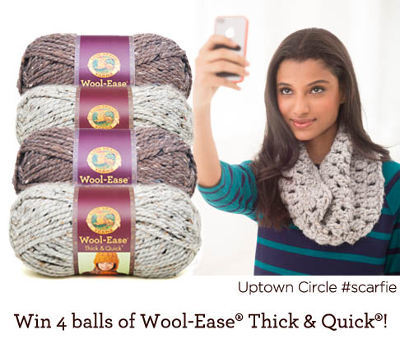 Also, We are so excited about Lion Brand's current #scarfie promotion, we are giving away Lion Brand's Wool-Ease Thick & Quick Yarn to help you participate! This super bulky yarn has all the benefits of wool yarn (super soft and warm) with the easy care of acrylic (easy to care for). Enter for your chance to win right here. The contest ends 12/14. 3 lucky winners will be chosen. Enter now!
Tell Us: How many scarves have you made?
Latest posts by AllFreeCrochet
(see all)