Mad Men has triumphantly returned to television for what looks to be an intense and thrilling season finale.  But let's leave the drama alone for a moment and talk about the real reason behind this show's fantastic success: those gorgeous costumes.  The 1960's setting of Mad Men has given us plenty of time to drool over those cute, elegant, and wonderfully vintage outfits.
Don't think that the cast of Mad Men gets to have all the vintage fun.  Knitters can hop right onto the super stylish boat and create their very own retro look.  Grab one of these gorgeous patterns and get started on a cute new addition to your wardrobe.
 Adorable Accessories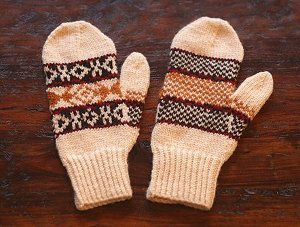 Keep those mitts warm with these Mad Men Mittens (pictured).  Your friends won't believe their eyes when you pull these as-seen-on-TV mittens out of your pocket.
Looking for something a little more elegant?  These Houndstooth Fingerless Gloves have a classic look that you can pair with any outfit.
Channel the spirit of an icon of the '60's, Jackie Kennedy, with this classy Jackie O Tee.
Go for a tomboy look and throw your ponytail under this Newsboy Peak Cap.  You'll look effortlessly cute and casual when wearing this knitted cap.
The fun isn't limited to your wardrobe.  The Harlequin Afghan is an attractive decor piece for any room that will fight away any chill.
Sweet and Sassy Sweaters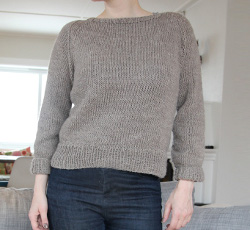 Create an effortlessly beautiful look with the Betty Sweater pattern (pictured).  Comfort and elegance don't have to be at odds.
You won't be afraid to flirt a little when you don the Joanie Sweater.   This gorgeous sweater will make you look like a woman in charge of her life.
Fashion forward and incredibly warm, the Backwards Upside Down Sweater will wow you with its versatility.  You can dress this sweater up or down and still look fabulous.
Shrugs and Shawls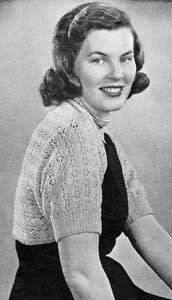 The Lacy Shruggy (pictured) is a genuine vintage pattern that will make a great addition to any outfit.
When you need something light to wrap around your shoulders, the Vintage Lace Shawl is a perfect choice.  It's light and airy, making it perfect for the warmer months.  This vintage knit is sure to become a favorite.
Which vintage pattern do you like the most?
Latest posts by AllFreeKnitting
(see all)