AllFreeCrochetAfghanPatterns Presents Crochet Designer,
Heather Tucker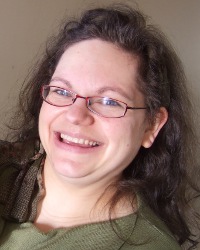 How old were you when you first learned to knit or crochet? Heather Tucker, today's featured designer, learned how to crochet when she was only four years old from her grandmother. Because she learned so young, Heather never really learned how to hold her hook the "right" way. But lucky for us, this hasn't hindered her crochet ability in the least! Her crochet skills developed quickly, and so did the complexity of her work. This just goes to prove that a little bit of hard work and a whole lot of practice are equally, if not more important, than having the "right" technique.
Heather Tucker is one of the featured designers on AllFreeCrochetAfghanPatterns. Heather tends to think mathematically, and this has played a large role in the afghan pattern she designs. All of her patterns include elements of shape, angle, texture, and symmetry.
Though she's been creating her own afghan patterns for years, only recently has Heather taken an interest in writing them down and sharing with others. Sharing her designs brings Heather plenty of of satisfaction, but what she truly enjoys is learning that someone has taken one of her designs and built upon it, creating something new.
Visit Heather's blog, Mama's Stitchery Projects, to take a look at all of Heather's original  crochet and knitting tutorials. We're sure you'll love what she's created, and you'll definitely find inspiration for your next yarn project!
Below are just a few of the fantastic crochet afghan patterns from Heather that you can find on AllFreeCrochetAfghanPatterns. Enjoy!
Lacy V-Stitch Ripple Afghan
Double Crochet Ripple Blanket
Train Tracks Baby Blanket
Ribbons and Lace Afghan
Heather picked up her first crochet hook when she was only 4 years old! How old were you?
Latest posts by AllFreeCrochet
(see all)