Happy Sunday all you yarn folk! It's time to meet a designer and see what she is all about! Meet Andrea Hoglen, who took up crochet to help her deal with the stress of working a full time job and going to school full time. Sound familiar? We all have very stressful times in our life and I think we all know how much crochet can ease our troubles. Since learning how to crochet (and knit!), Andrea has designed patterns and finished her doctorate – good for you Andrea! She loves small projects that she can tackle in a weekend. Speaking of…you should try one of her patterns today!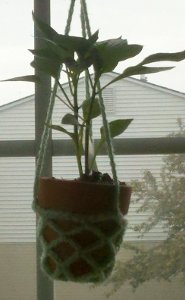 Mini Crochet Plant Hangers – With spring in the near future (I hope!), these plant hangers make wonderful gifts. decorate your outdoor patio with plant hangers that look chic and natural at the same time. With this pattern, you won't have to buy plant hangers again as you can just make your own.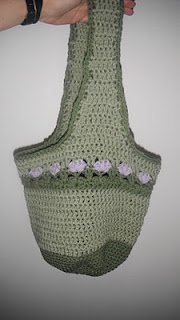 Lilac Meadows Hobo Bag – Such springy colors! I love the little row of lilacs with paired with the shades of green. I can picture my little sister taking this bag with her to Easter church service. You could even collect eggs with this bag on an Easter egg hunt! I definitely want it to be spring if you can't tell…looks like we'll have to wait awhile longer. So for now, crochet this spring bag while we wait for the snow to melt!
See all of Andrea's Patterns here!
Are you crocheting anything for spring?
Latest posts by AllFreeCrochetAfghanPatterns
(see all)