Have you heard of the crafty blog Whistle and Ivy? If not then let me introduce you. Bethany Dearden, from Whistle and Ivy,  is one of the bloggers we work with. We fell in love with her work the day we saw the first crochet pattern she submitted. She learned to crochet when she was young but got serious about it when she was pregnant with her son. She loves to make things for people in her life, and enjoys turning a skein of yarn into something cute and useful.
On her blog, Bethany provides free crochet patterns, shows off her work, provides recipes for "foodies" and talks about her life as a mom. You know she's loving being a mom from all the baby crochet patterns we've seen. Without making you wait any longer, let's take a look at some of her fabulous crochet designs!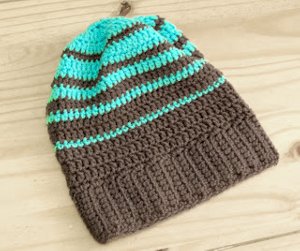 Striped Hipster Slouchy Beanie – This crocheted hat pattern is one of my favorites and I think it's because the aqua and brown crochet colors really grab my attention. The colors look fantastic together and really make the design stand out. The rim of the hat is worked up differently than the beanie part. This hat can be made for just about anyone, and of course you can choose your own colors.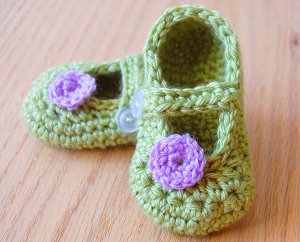 60 Minute Mary Jane Slippers – This is one of our more popular patterns by our readers. Who doesn't like creating a pattern in just 60 minutes? I personally have made a pair of these for my daughter and she just looked too cute wearing them. The crochet pattern is easy to follow and allows you to get a little creative with your embellishments. If you don't like the circle, you can make a crochet flower, bow or simply leave it plain.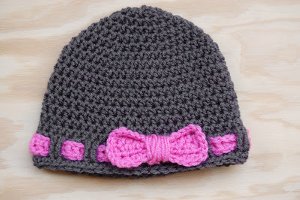 Belted Bow Baby Hat – Once again, I adore the colors of this crochet hat pattern. I think if you really want your projects to "pop" you need a bright, contrasting color, and that's exactly what Bethany did with this hat. The crochet instructions are provided for a newborn size but give suggestions on how to make it bigger. And again with this pattern, if you're not a fan of the bow you can always crochet a flower or other embellishment. You can even leave that part off and make this hat for a boy!
Like what you see so far? Check out more of Bethany's crochet designs!
Which of these three patterns would you LOVE to make?
Latest posts by AllFreeCrochet
(see all)