Meet one of our very talented crochet designers, Doni Speigle. Doni started crocheting at the age of eight and she hasn't been able to put her hook down, since. She started out crocheting potholder patterns but eventually branched into other crochet patterns. In 2007 she created her Etsy shop, Bearsy43. "It is so rewarding to picture a design in my head and watch it come to life from a ball of yarn."

Doni has some super cute crochet patterns to offer, so let's take a look at a few!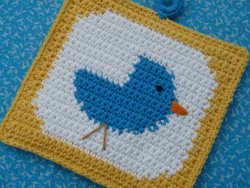 Bluebird Potholder – This crochet design is perfect for the spring season. It's nice to switch out your towels and potholders for new holidays and seasons. This cheerful crochet accessory is sure to brighten up your kitchen.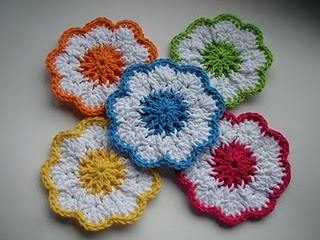 Springtime Coasters – Using fun, bright crochet colors you can come up with some favorable coasters like these. The spring is all about blooming flowers and fresh colors, not to mention fresh crochet ideas!
See the rest of Doni's crochet designs.
Two of Doni's crochet patterns were featured in the eBook Crochet in Color: 11 Colorful Crochet Patterns. Download your free copy to see them!
Latest posts by AllFreeCrochet
(see all)