We've all been there. Crocheting the wrong stitch, not counting stitches, and making mistakes we aren't willing to admit. But it's time to face the truth: mistakes are inevitable in crocheting. They are what help us grow as crocheters. Learning from our mistakes and learning from others is a great way to avoid problems down the road. Plus, it's just comforting to know that we aren't' the only ones out there refusing to count stitches and regretting it later. 😉
Yarn Woes
Darlene K. – Misjudging the amount of yarn needed….then when I went to get more there was none….and they weren't getting any in stock anymore either….that's when I learned what discontinued yarn means…..
Sharla A.  – Splitting yarn, CONSTANTLY and not counting stitches.
Teri R. – Not calculating the right amount if yarn… Whew. Talk about some quick-change projects. "Oh, no, I meant this afghan to only cover your 2 year old???"
Kelli K. – Just now I accidentally clipped the wrong yarn and unraveled my project.
Pattern Woes
Lana S. – Not asking for help, not counting, not knowing when to end or how to tie on a new color…. understanding patterns is my biggest down fall. I can learn easier from you tube or someone sitting in front of me.
Carl R. – Oh, I have to comment on this one! When I was taught crochet, all I was taught was a double-crochet granny square. The rest I learned on my own, mostly through trial and error. I've been crocheting now for 25 years and just this year I realized that every single-crochet I've ever made was actually an extended-single-crochet!!! LOL Wow. I mean, it never affected my work, but I was looking at the basic techniques in one of my magazines and realized I've been doing it wrong this whole time!
Lindsey A. – Not realizing that you need to go under both loops for each stitch. I crocheted into the front loop only, until I ran across a pattern that specifically told me to do that!
Belinda K. – Not to learn how to read patterns, been crocheting for 25 years still can't.
Rosemary B. – Not being aware that there was a difference between the stitch names used in US and UK patterns!!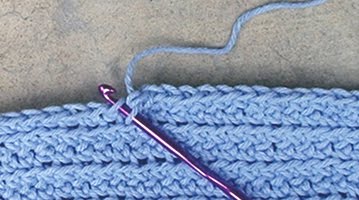 Stitch Woes
Becky C. – Not counting stitches in a row, and not counting rows.
Cyndy C.  – Not counting stitches, not keep consistent tension and not checking my gauge. My first few projects were disasters!!
Irena D. – It took me awhile to learn the importance of counting stitches and using stitch markers!
Lisa D. – mistaking slip stitch for SC, and not practicing chaining and sc before moving on… just to name a few.
Joann P. – Not counting the starting chain properly and where to put the first stitch after turning!
Maxine R. – Making my stitches too loose or too tight.
Annamarie Y. – Not learning the names of the stitches. My aunt showed me how to crochet at age 9, but not the names of the stitches. So at age 43, I took a crocheting class at our local school n learned names of stitches n then how to read patterns! It opened up a WHOLE new world.
Shelly C. – My grandma first taught me crochet when I was 8 and the biggest mistake I made when starting out was holding the yarn so tightly that the stitches were impossible to work with! When it came time to work into the previous row, the stitches were too tight to get the hook into.
Toni G. – I didn't know how to start a granny square so my mum started for me. I also thought that each stitch had to go I between the other stitches. Thank God for YouTube lol.
Nadine H. – My double crochet stitch was really a triple crochet. Made for some interestingly larger than planned afghans.
Look for Part 2 next week! What mistakes have you made?
Latest posts by AllFreeCrochetAfghanPatterns
(see all)