Mother's day is just 16 days away, but it's never too late to show your mom that you care. Today we are featuring beautiful and feminine afghan patterns from our new collection 14 Crochet Afghans for Mother's Day Gifts. Many of these patterns are reader favorites and feature unique and pretty crochet stitches. Like I always say, homemade gifts are the best gifts. Gifts just mean more when they are crafted by hand and the receiver knows that you put time into making something special just for her. The best feeling is being able to say, "hey, I made this for you!" There are plenty of mother's day crafts out there, but a crochet afghan made just for mom is the perfect gift.
I've picked a few of my favorite patterns from this collection just to give you a sneak peak. I know your mom, grandma, or aunt will just love one of these crocheted afghans. Some people think of lace as an out-dated and "frilly" doily. On the contrary, lace crochet can be quite pretty, lightweight, and not too difficult to create. Lacy crochet afghans like the ones you'll find below look wonderful in soft tones and even bright colors.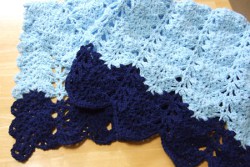 Lacy V-Stitch Ripple Afghan – You don't have to crochet in just pinks and purples for your mom – try a pretty blue with this pattern and I think you will be surprised at how much you love the way this afghan turns out. This crochet pattern can definitely be made to be a throw instead of a full afghan which will make your crocheting much quicker and easier to complete in two weeks.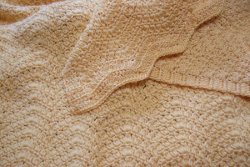 Soft Clusters Ripple Afghan – The nice thing about this afghan is that the borders and edges are crocheted as you go. This easy to make ripple pattern can be made in a solid color or in any colors you like. I love the creamy color as shown, but I can definitely see this pattern in other colors as well. A soft worsted weight yarn makes this ripple afghan extra cuddly.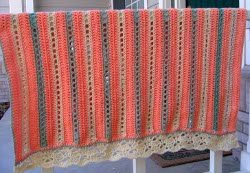 Lacy Peach Lapghan –  The Lacy Peach Lapghan is a sweet and light blanket that makes a wonderful spring afghan. Peach and coral are popular colors lately and this blanket is a great way to showcase this trendy color. With cream and sage colored yarn for accents, this blanket turns out subtle and gives a warm feeling to any room. The lace border for this pattern is added at the end so if you run out of time, don't worry! You can give her this blanket and add the border later.
What are you crocheting for Mother's Day?
Latest posts by AllFreeCrochetAfghanPatterns
(see all)