That's right. Movie night is here again. It's time to take a break from your busy schedule and snuggle up on the couch with a few of your favorite movies.
For as long as I can remember, my family has reserved Fridays for movie night regardless of how far we've been away from each other. As the seasons change and the temperature drops, there's one thing that has become a constant during these chilly night— knitted blankets. Learning how to knit a blanket was one of the best things I could have ever done. Not only are knit blanket patterns easy to follow, but they also produce a cuddly knit that has a multitude of uses. For example, they make great gifts for people of all ages. After all, it's the one knit you can't grow out of. Knitted blankets are also perfect for movie nights.
Whether you're alone or surrounded by friends and family tonight, a few knit stitches are all you need to complete your relaxing environment. Here are a few knitted pillows and knit blanket patterns for you to add some warmth to your movie night. So, get the popcorn and get ready to cast on the cozy knits that are sure to last you a lifetime.
Warm & Toasty Knit Blanket Patterns
It's time to get started on the first piece to our movie night. You want to create a completely relaxed atmosphere, so why not start with your knitted blanket? Learning how to knit a blanket will not only keep you incredibly warm during your night of movie bliss. It also makes for great covering if you're not a fan of horror movies. These knit blanket patterns are guaranteed to keep you nice and cozy throughout the night. Made with the softest of yarns, it just might be hard for you to stay awake until the end of the movie once you get beneath one of these.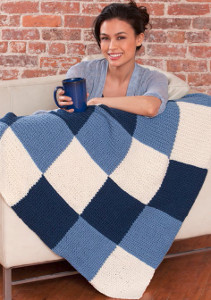 The Bold and the Beautiful Scrap Afghan
Rustic Panels Afghan
Cuddly Seed Stitch Baby Blanket
Totally Autumn Afghan
Cinnamon Twist Afghan
Dream Catcher Baby Blanket
The Essential Effortless Afghan
Simple Quick Knit Throw
Strawberry Ferry Baby Blanket
Dazzling Squares Afghan
Cute & Comfy Knitted Pillow Patterns
Now that you've got your blanket, it's time to start working on the last piece to get your movie night going without a hitch— the pillow. Learning how to knit a pillow cover isn't as difficult as it may seem. Simply get out your needles and yarn and get to work. These beautiful knitted pillow patterns are perfect for adding that special pop to your home decor. They're also great for personal use. If you cast on now, you'll be snuggling up to one of these cuddly little knits in no time at all.
Cozy Knitted Cushion
Ravishing Ruby Pillow
Stripe it Rich Pillow
Stash Buster Cushion
Saltwater Taffy Pillows
Mod Mosaic Pillow
What movie will you be watching for your next movie night?
Latest posts by AllFreeKnitting
(see all)