Did you know there are more than 700 varieties of peaches? Neither did we. Add the following 12 peach patterns to the mix, and there's more than 712 🙂
August 1 marks the beginning of National Peach Month, and we're here to help you celebrate! Peaches pack a lot of great health benefits: they are high in vitamins A, B and C and a medium peach only contains about 37 calories. Plus, the juice from peaches is a great moisturizer and can even be found in some cosmetics.
Of course, you don't have to eat a peach to celebrate National Peach Month! Aside from eating peaches, there are still plenty of other ways to celebrate! Check out some of our favorite peach patterns below for both knitters and crocheters. Each one of these free patterns uses a pretty peach color yarn in the design.
Plus, for those of you that would also like to bake or cook with peaches this month, scroll down for a few of our favorite (free!) mouth-watering peach recipes from our friends at RecipeLion!
Peach Crochet Patterns
Grab your hook and get to work:
Peach Knitting Patterns
Irresistible Peach Recipes
In addition to working up peach crochet patterns, celebrate National Peach Month with these mouth-watering peach recipes. You're sure to enjoy any one of these 30 Peachy Peach Cobbler Recipes, plus find more tasty treats below: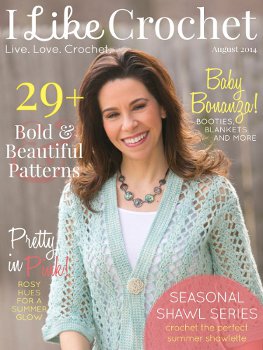 PLUS:  Enter to win a subscription to I Like Crochet digital magazine. Choose from the tablet edition, website access only, or both (note: existing subscribers will receive a refund on their previously-purchased subscription). This exclusive crochet site contains crochet patterns, tips, and tutorials that you won't see anywhere else. Unique to I Like Crochet, these patterns are made by the best crocheters in the industry and given to you in a beautiful digital magazine. A subscription to I Like Crochet includes six issues annually, with each issue delivering 30 projects and 7 tutorials. The deadline to enter is August 13th, 2014 at 11:59:59 p.m. Eastern Time. Enter for your chance to win right now!
How do you plan on celebrating National Peach Month? Leave a comment and let us know!
Latest posts by AllFreeCrochet
(see all)