The spring thaw always stirs in me an intense desire to whitewash my wardrobe entirely. Normally I am a dark neutrals kind of gal, but come March 1st, I'm craving eggshell-colored linen blouses and my favorite pair of white jeans.
Along with my freshly revived love of all things ivory comes a somewhat strange longing for the roughhewn feel of an old wooden dock and the salty smell of the ocean. Although I have no history of boating and am prone to unexplained bouts of mainland sea sickness, the nautical trend appeals to me on a number of levels. Maybe it's the clean lines and classic stripes. Maybe it's the deep blue juxtaposed against the bright white. Whatever the reason, I'm totally digging the nautical trend and cannot wait to whip up some of these easy knitting patterns.
Even if you don't own a house in the Maine or summer in the Hamptons, there's a way to fit this preppy look into any child, teen, or adult wardrobe.
Nautical Inspired Knitting Patterns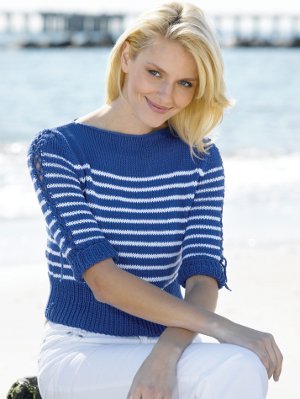 Must-Have Nautical Sweater (shown) – There's nothing to hate and everything to love about this timeless striped sweater. Perfect for a breezy spring afternoon, this darling sweater is just polished enough for a casual-chic look.
Blue Skies Baby Blanket – How about a nautical themed nursery? This adorable knit baby blanket pattern features the classic blue stripe design in four quadrants. The Blue Skies Baby Blanket will add a touch of pattern and a ton of cuteness to any baby's room.
Nautical Eyeglass Case – Perfect for stowing a spare pair of reading glasses in the den, car, or anywhere else you desire, the Nautical Eyeglass Case is a simple color work pattern that features a tiny little sailboat motif.
Summer Sailor Pullover – For some reason, children look even more adorable in stripes. This timeless pullover is perfect for warming kids up after a long day at the beach or after the sun goes down on cool spring and summer nights.
Splendid Striped Cowl – Although the Splendid Striped Cowl isn't shown in the traditional maritime colors of blue and white, it's easy to imagine how fresh and springy this comfy cowl would look in nautical colors.
Vintage Inspired No Sew Sweater (shown) – Laid-back nautical! This darling striped sweaters is one of my favorite projects on AllFreeKnitting. The crisp white is swapped out for a creamy beige and the royal blue is replaced with a soothing navy stripe. The Vintage Inspired No Sew Sweater is a happy medium for those who want just a taste of the nautical trend.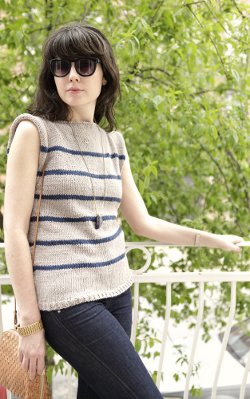 Fisherman's Rib Scarf and Cowl – Inspired by traditional fishermen garb, The Fisherman's Rib Scarf and Cowl is a thick and cozy matching featuring the classic rib stitch. Shown in a gorgeous shade of deep sea blue, this timeless set makes a great gift for any love of the land or sea.
Child's Middy Jumper – This adorable children's pullover features a contrasting sailor color and cuffs. Adorned with a sweet satin bow, this darling little knit is perfect for dressier occasions.
Classic Amelie Hat – Swap out the purple for white and you've got a hat worthy of the sea! The Classic Amelie Hat is a charming cap adorned with a sweet picot edge.
Two Needle Baby Socks – These sweet little socks make an adorable baby shower gift or first birthday present. The French blue background juxtaposed with the crisp white stripes are a classic combo for tiny little boys.
Sailor's Infinity Cowl – This springy and soft knit cowl is the perfect accessory to pair with nautical stripes. This khaki-colored cowl is reminiscent of the rope used to dock boats, making it a maritime masterpiece.
BONUS!
Knit Red and Jimmy Beans Wool Yarn Bouquet
Gifted by: Jimmy Beans Wool
We are giving away one Jimmy Beans Wool Yarn Bouquet + Knit Red Prize to one lucky winner.  The deadline to enter is February 13, 2014 at 11:59:59 PM Eastern Time.
Enter for your chance to win here!
Are you a fan of the nautical trend?
Latest posts by AllFreeKnitting
(see all)