With fall and winter seasons fast approaching, you're probably beginning the hunt for the perfect crochet scarf patterns. Maybe you're tired of doing the same patterns you've always done and are ready to take some creative and stylish risks. If this is the case, you'll definitely want to check out these 20 New and Favorite Easy Crochet Scarf Patterns to mix up your crochet project portfolio. These new and favorite easy crochet scarves are the perfect patterns to get you into a fresh crocheting groove.
This all-inclusive free pattern collection is chock-full of new ideas and styles that you'll be eager to try. There are patterns in all sorts of colors and designs for men and women alike. Our list even includes fabulous cowl patterns that will make you even more impatient for the cool weather to arrive. Block out those crochet patterns you've done so many times and change things up a bit this fall and winter.
Fashionably Favorite Crochet Scarves
---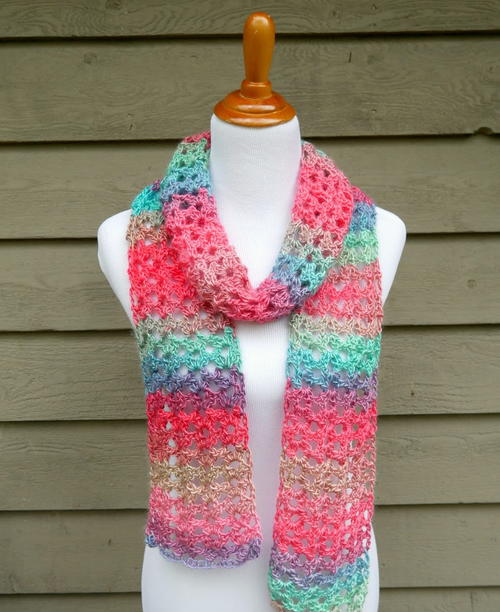 This section holds AllFreeCrochet's most popular scarf patterns starting with the site's top pick for scarves. You can see that many people enjoy the lace style crochet patterns the most, but there are also infinity scarves to make and more! Following trends isn't always a bad thing, especially not when it comes to making these beautiful scarves, so sit back and click through these favorite patterns to find the perfect new style for yourself this upcoming fall season.
New Crochet Scarves
---
Looking to start your own crochet fashion trend? This section includes our newest crochet scarves, all hand-picked by the editors of AllFreeCrochet. While lace and cowls make an appearance in this list as well, these patterns are upcoming styles that are sure to be in our top favorite patterns in no time. We're bringing the classic fringe scarf back with new and fun designs and innovations. There's even a scarf pattern for men thrown into the mix for that lucky fella in your life. Don't hesitate to get a head start on these amazing patterns!
---
Feel free to dig up more crochet pattern treasures in our entire crochet scarves collection!
---
What style of scarves do you normally make for yourself?
Latest posts by AllFreeCrochet
(see all)