We know how much you love ripple patterns so we spiced up this collection page and threw some newer patterns in there. I bet you'll like what you find! Ripple crochet is super popular these days and it seems like everyone is coming up with a different variation on the classic design. Well, keep 'em coming! You can never have too many ripple patterns!
Five ripple afghans and five round crochet afghans make up this sweet little collection. These patterns are all different, beautiful, and making waves in the crochet world! As you can see, some of the ripple crochet afghans are a little more wavy and some are more zig-zaggy. The zig-zag patterns are more commonly referred to as chevron patterns these days. This bold design seems to be appearing everywhere from home decor to fashion trends and more.
These are my top two favorite patterns from this collection, but I really do love them all. I'll tell you a little bit about these patterns but then be sure to go check out the other designs in 10 Ravishing Ripple Afghan Patterns!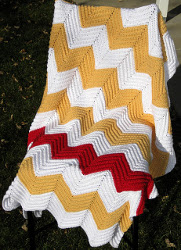 Chevron Blanket – To me, this afghan's winning trait is its use of white to create a stark contrast between two primary colors – the red and yellow. The yellow is also more of a burnt yellow which helps give the blanket a softer look. The one ripple of red completes the look for sure. This is the kind of afghan you want in your home if you are trying to create a very modern and chic look.

Pink 24 Point Round Ripple – This is a brand new pattern that I just can't stop staring at! The pink and black combination is both girly and bold at the same time. It's the kind of blanket that teens will love. What is interesting about this pattern is that it uses granny squares to change up the design. Like I said before, the ripple is constantly changing and becoming more and more varied with each pattern. I love it!
Enjoy these patterns! We want to know which patterns you love and if you have a newly designed ripple pattern, by all means share it with us!
Which ripple pattern do you want to try?
Latest posts by AllFreeCrochetAfghanPatterns
(see all)