Weeeee! Around and around we go! If you remember the thrill of swinging on a tire swing, the joy of riding a carousel, and spinning around until you were so dizzy that the clouds began to spin – these patterns, my friends, are for you.
These spiral crochet patterns really are fun to make and the result is an afghan that is sure to catch someone's eye. Round crochet patterns are catching popularity and if you haven't tried one yet, you definitely need to. The round crochet patterns remind me of bulls-eyes and perfect circles. I've added round ripple crochet afghans to this collection because these free patterns are a little different. Many crocheters know the typical ripple pattern and in that case, these patterns should be a lot of fun! This type of crocheting is easy to pick up on and before you know it, you'll have your very own round ripple crochet afghan. Check them out – you won't be disappointed!
These are a couple of my favorite patterns in this collection: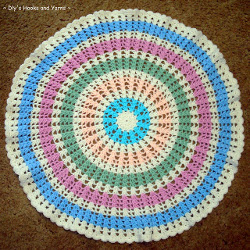 Ferris Wheel Baby Blanket – Make your very own round crochet afghan with the Ferris Wheel Baby Blanket pattern. Rounds of pastel colors make this pattern light and still gorgeous at the same time. This crochet baby afghan is versatile and can be made for both boys and girls. Once you start crocheting round crochet baby blankets, you'll never want to crochet anything else. Promise.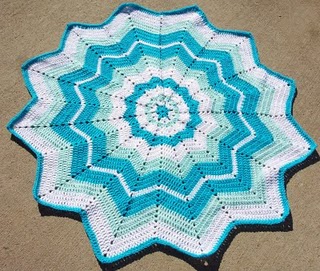 Beginner's Round Ripple  – If you're just learning to crochet, you've got to try this pattern. The Beginner's Round Ripple is easy enough for beginners but still looks impressive. I love the bright color scheme this blanket uses and the way it looks like rippling waves during the summer time.
Have you crocheted a round blanket before?
Latest posts by AllFreeCrochetAfghanPatterns
(see all)