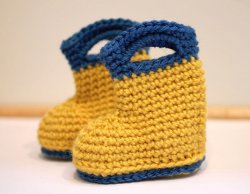 Whether you like classic crochet scarf patterns, or the trendy infinity scarf style, there's no doubt that crocheted scarves are the most popular pattern to work up among crocheters. Up next in popularity are baby and adult afghans, followed closely by crochet shawls, ponchos, and wraps.
But did you know there are plenty of other crochet patterns to choose from, too? It's true;  you can pretty much crochet anything you want, like these Crocheted Rocks, Dog Poop Christmas Ornament, and Crocheted Rain Boots. Plus, the Faux Boob is the perfect free crochet pattern to make for Breast Cancer Awareness month!
Find more unique crochet patterns below. The patterns you'll find in this collection are definitely not your average crochet patterns, but you have to see them to believe them! They may not be the most "traditional" patterns ever, but they will definitely make you laugh!
17 Unique Crochet Designs
Not Your Average Washcloth: All washcloths should be made like this!
Dubai Turban: You'll feel like a world traveler with this crocheted hat
Adorable Owl Dish Scrubbies: The cutest kitchen accessory ever
Clover Honey Bear: A great way to re-use your honey bottles!
Das Beardhat: The only winter accessory men need
Dog Leg Warmers: Even Fido needs to stay warm and cozy in the winter 🙂
Magical Pillowghan: It's a pillow AND an afghan!
Funky Tails Crochet Hat: This crocheted hat is out of this world
Skunk Earflap Hat: This crocheted hat is proof that not all skunks smell bad
Magical Animal Hat: Make this Magical Animal Hat for your kid, or for your own inner child.
Bacon Baby Blanket: This is the perfect crocheted baby blanket for the foodies in your life.
Gratitude Stones: Express your gratitude and say "thanks" with this free crochet pattern.
Popsicle Snuggy: Keep your hands warm and your popsicle cool with this stash-buster crochet pattern.
PLUS… Enter to win Lion Brand Bonbons: Jingle Bells! We are giving away 2 packages of Lion Brand Jingle Bells Bonbons yarn. These miniature skeins of yarn are definitely not your average skeins of yarn! They are the most festive way to work up a variety of Christmas crochet patterns. Each package includes 8 mini skeins of yarn in an assortment of holiday colors. Enter here to win; the contest ends October 23, 2013.
What's the most unique crochet pattern you've ever seen? Leave a comment and let us know!
Latest posts by AllFreeCrochet
(see all)