Last chance!! If you haven't yet sent in your knit or crochet prayer shawl for our Prayer Shawls for Rush Charity Drive, today, December 5th is the last day to ship a package to be entered in our grand prize giveaway!
Our original plan was to announce a winner today, but the shawls just keep coming in and show no signs of stopping – wow! So, to give all the shawls a chance to make it to our office, we're going to hold off on announcing a winner for just a bit longer. That leaves you with today to complete your shawl, so finish off those last few rows and head to the post office!
To hold you over until then, check out some of the beautiful shawls we've gotten in so far! How many do you think we're up to? A big thank you to everyone who's sent one (or more!) in so far.
If you need a refresher on the prayer shawl drive or Rush University Medical Center's mission, be sure to check out our video!
Knit or Crochet Shawl Requirements:
We aren't requiring a certain size, color, or shape.  Just make sure the shawl is big enough to wrap around the shoulders of someone who may be sitting in a wheelchair or lying in a hospital bed.  Men and women will receive these shawls, so keep that in mind if you're stuck on color choices.
Do your best to avoid wool and other exotic yarns, as these may cause allergic reactions.  Cotton and acrylic yarns are recommended.
Attach a short note with a warm thought or prayer.  Many of the patients like to know who made the shawl for them, so please be sure to add your first name and where you're from.
If you're stuck on ideas, our friend Marie Segares has generously donated this crochet prayer shawl pattern, and Jessica Anderson has contributed this knit prayer shawl pattern just for this event! If you'd like a little more inspiration, check out the free patterns in our eBook, Free Crochet Prayer Shawls.
And, if you're feeling extra charitable, don't miss AllFreeKnitting's "Knitting for Charity: 23 Free Hat Patterns" collection.
Plus, in addition to the warm feelings that come with helping someone in need, if you send in a knit or crochet prayer shawl you'll automatically be entered to win the exclusive yarn bundle seen below!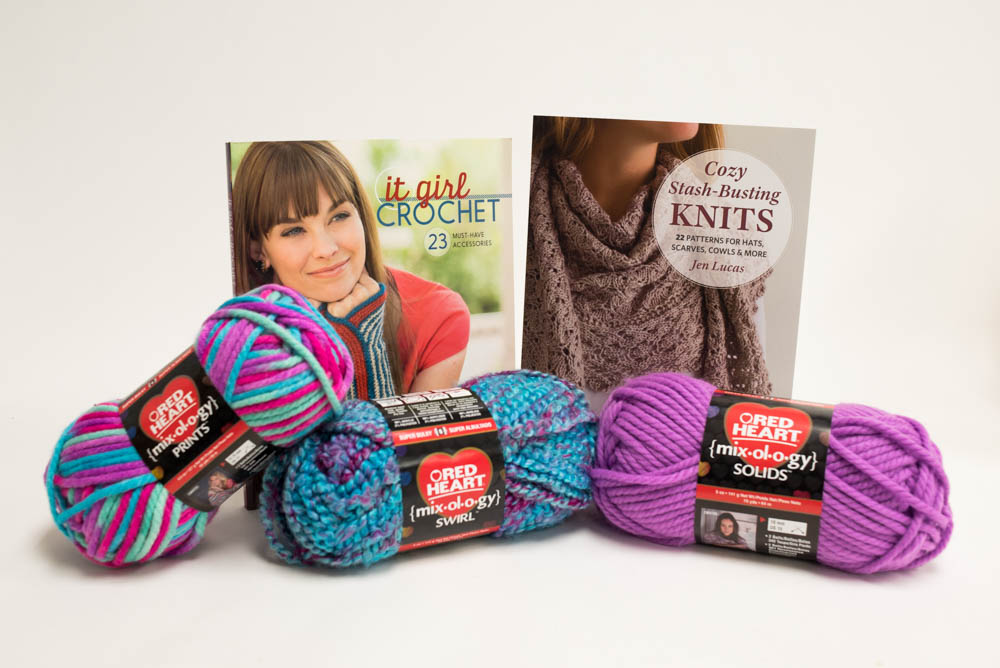 As a reminder, the rules are as follows:
Knit or crochet a shawl, big enough to comfort someone, and weave a few warm and healing thoughts into it as you work.  Then, box it up and send it to us.  The only thing you MUST DO is put a slip of paper/card/something INSIDE the box so we know who sent it.  Information on the outside of the box does not count!  
Please include your name, address, phone number, and email address with your donation for contest entry.

Your donation must be postmarked by December 5th, 2016 for contest entry.

Contest open to US/Canada residents age 18+ only. Void in Puerto Rico, the Province of Quebec and where prohibited.
No shawl to make but still want to enter to win the exclusive yarn bundle? Answer the question below by leaving a comment on this blog post.

There is a maximum of one entry per person. Commenting on this page will enter you for a chance to win the prize. Duplicate comments will be deleted and will not be tallied.
The winner will be contacted by the e-mail address provided in their account. Please do NOT leave your e-mail address in the comments – you already provided it when you created your account.
You have until December 5th, 2016 at 11:59 pm CST to leave your comment on this post. Comments submitted after the deadline will not be counted.
What is your favorite comforting quote or thought?
Latest posts by Stitch&Unwind
(see all)