As you may remember, from November 1st – December 1st 2017, AllFreeCrochet and AllFreeKnitting partnered with Rush University Medical Center in Chicago, IL to collect handmade prayer shawls for sick patients in need. Readers and yarnies from around the globe took the time to knit or crochet a prayer shawl (or several!) during that time and mailed them to our offices. It was such a joy receiving all the sweet handmade designs over the month and a half that packages were arriving!
We've finally unboxed them all, counted them, and prepared them for transport to Rush, and we have a final total for you today.
The total number of shawls received was…340, beating last year's number by 12 whole shawls!
Rush University Medical Center collects prayer shawls year-round for their palliative care patients and usually receives around 15 shawls per month. In just one month, with your help, we collected nearly 350 shawls – a normal two year's worth of shawls! We can't thank you enough for your donations and your words of comfort and encouragement. Together, we've managed to do something pretty incredible, and we know the hospice patients and their families are equally as grateful.
Upon receiving the shawl donations, Timothy Lankford, Chaplain at JourneyCare, the onsite hospice unit at Rush University Medical Center, said the following:
"Thank you for the wonderful prayer shawls. And thank you to all the wonderful people who helped us load. You are all angels.
Patients and family members love them. I gave out several today and they made people's day.
It is not unusual for people to cry when they receive them….and make me cry too.
God bless you and all involved for efforts."
Below you can see just a few of the many beautiful shawls we received. All in all, it took two vehicles to transport them to Rush University Medical Center. Thank you to everyone who donated!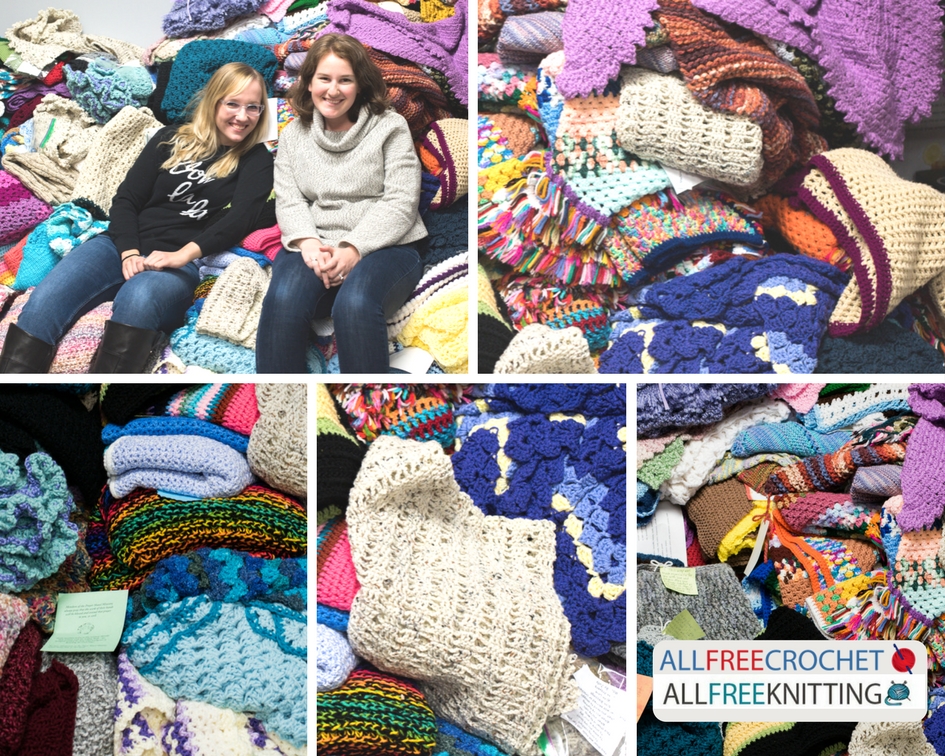 Anyone still interested in donating a knit or crochet prayer shawl can find more information and a mailing address at the charity website. Find all of our free crochet prayer shawls here, and don't miss our full collection of knit prayer shawls, as well.
---
We've also selected a grand prize winner from our collection of entries – congrats to Millie Gibson from Anchorage, AK for winning the exclusive yarn bundle giveaway! Thank you so much to everyone who participated. Your generosity has not gone unnoticed.
Until our next charity drive, you can keep yourself busy by working up any number of our best prayer shawl patterns from AllFreeCrochet and AllFreeKnitting.
What charity do you love to help out?
Latest posts by Stitch&Unwind
(see all)