Every once in awhile, I lay in bed before my alarm goes off and wonder, "What am I going to wear to work today?" This age-old question is one that plagues women (and men) no matter
how old they are. Fortunately, I work in an office where the dress code is pretty laid back, but I haven't always been so lucky. I've worked in offices with strict dress codes where professional attire was required every day of the week. Although I think dressing up for work makes for a more productive day, it's sometimes hard to plan out a different outfit every day of the week – not to mention one that's stylish and office-appropriate. Keep reading for over ten pretty and professional options for work wear. From lacy knit cardigan patterns to basic knit top patterns, there's a suitable option for every day of the week.


Pretty & Professional: Easy Knitting Projects for Office Wear
Cranberry Lace Cardigan – This beautiful knit cardigan pattern is the perfect way to infuse a little color into your office attire. The pretty lace detailing will make you feel polished and feminine for a productive day of work.
Downton Abbey Cardigan – This form-fitting, flattering knit cardigan pattern is a professional basic. The classic construction and beautiful fit of this blue beauty is the perfect option for mid-week meetings or casual Fridays.
Sandia Jacket – This fun knit cardigan pattern has a blazer-like construction, so it gives your shoulders and neckline a nice silhouette. Pair it with slacks for a dressier occasion or dress it down with jeans for an after-work get-together.
Afternoon Brunch Cardigan – This darling, short-sleeved knit cardigan pattern is perfect for spring days at the office. The lovely lavender hues will pair nicely with a neutral-colored skirt or slacks.
Diamonds on the Cuff – This charming knit cardigan pattern is an office essential. Its clean and simple design is enhanced by some lovely lace detailing on both cuffs.
Berry Crumble Cardigan – Rich textures and a creamy purple color combination define this charming knit cardigan pattern. Throw it on Monday morning to start the week on a good note.
Emily Summer Sweater – This bright and cheerful knit cardigan pattern is the perfect way to celebrate the start of spring. Wear it with a pair of light neutral slacks or a pretty skirt for a fun and feminine professional look.
Bedford Yellow Cardigan – This beautiful gold cardigan is a great option for layering over a button-down blouse or plain dress.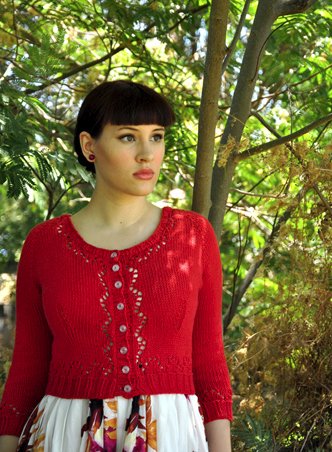 Lacy Leaves Cardigan – This flattering short-sleeved knit cardigan pattern is a bright and beautiful option for offices that don't have air conditioning.
Cap Sleeve Raglan – This classic cable knit top pattern is a professional basic you'll love being able to take credit for. You'll wonder how you ever got by without this office essential.
Seamless Summer Vest – This flattering, form-fitting knit vest pattern is perfect for the spring and summer months. Pair it with a button-down blouse or airy spring dress.
Women's Pullover Style No. 126 – Take office style back a few year with this vintage knit sweater pattern. This retro-chic (yet timeless) fitted sweater is a flattering option any day of the week.
Would you wear any of these styles to the office?
Latest posts by AllFreeKnitting
(see all)