There is nothing I want more than to curl up with a crochet throw and take a nice afternoon nap. Seriously, I'm so tired and a bit chilly today. Since I don't have time for a nap, I may just crochet a throw instead. We all know how great online crochet patterns are, but it's definitely a plus when you can easily print out the patterns for on-the-go crocheting.  So whether you've got a weekend trip coming up or a nice vacation, take these printable crochet throw patterns with you and crochet the day away! Plus, it will help get rid of these winter blues for sure.
Pink Raspberry Throw – The edging of this throw is really what makes this pattern special.




Cotton Field Throw – This is a new crochet throw that looks as cozy as can be!





Brown and Gray Lapghan – V-stitches and Shell Stitches make this pattern a favorite for many crocheters. I think it would also look lovely in pastel yarn.




Relaxed Guy Throw – We all have a dude in our life that is as picky as can be – am I right? So just relax and crochet this very simple throw that no one can resist curling up with. You'll have one happy guy for sure.




Light Lace Throw – Always a classic, this lacy crochet throw is stunning in a living room.




Corner To Corner Crochet Throw – This is an intermediate crochet pattern but it's totally worth the extra effort. We love the way the diagonal stripes look in this throw pattern.




Coffee, Claret, Copper Throw – We love the natural tones of this crochet throw and how it reminds us of a warm cup of coffee. The design of this afghan is great for on-the-go crocheting since you can crochet the squares separately.




Decorative Andante Throw – Many different square patterns make up this gorgeous crochet throw.




Passionate About Purple Crochet Throw – I think this crochet throw would be a perfect gift for a girly girl! Easy crochet squares are hard to beat.


Don't forget! We have printable crochet throws in this eBook as well:
Which crochet throw do you want to try and why?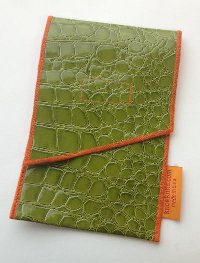 BONUS! To go along with your on-the-go printable crochet patterns, we are giving away this hook case to one lucky winner. You can enter between January 8, 2014 and January 22, 2014.
Measuring 4 1/4″ wide and 6″ tall, this hook case is great to stash in your purse or yarn tote on-the-go. Even with hooks inside, this case barely takes up any space at all. Enter today!
Giveaway has ended! Thank you to all who entered!
Latest posts by AllFreeCrochetAfghanPatterns
(see all)