I think if some of us had our way, we'd crochet every second of every day. Okay, maybe we wouldn't crochet THAT much, but I have a feeling we would still love to have all the time in the world to do what we love. That's why I've pulled together my favorite free crochet round ripple patterns. Have you ever tried one?
Round ripple afghans are unique in many ways. Obviously, these afghans are not square or rectangular which gives them a special star-burst shape that kids and adults both like. Since these afghans start out small, these patterns are great stash-busters. You can increase the size easily just by adding more and more rows. Once you've crocheted a round ripple, you'll realize that you can make round ripples in a variety of sizes to suit your needs. For instance, the start of a round ripple can be turned into a coaster, a trivet, a place-mat etc. We love these patterns because if you're not sure how much yarn you have, you can crochet until you run out and you'll still have some version of the pattern. If you're crocheting a basic square afghan and it ends up being the width of a scarf, you've got a problem. No problems in store for the round ripple though! The versatility of these pattern help crocheters work up multiple gifts by using the same pattern and that's perfect considering it's the first day of November! (Where did October go?!)
Without further ado, here are 12 round ripple afghans that will have you crocheting 'round the clock!
Have you crocheted a round ripple afghan? Have you tried any of these patterns?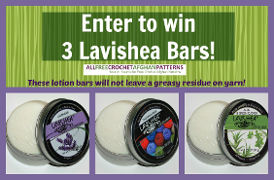 BONUS! Enter to win 3 Lavishea Lotion Bars! The deadline to enter is November 13th, 2013 at 11:59:59 p.m. Eastern Time.
As crocheters, we often struggle with keeping our hands moisturized without getting any lotion on our crochet projects. In the winter, this is especially difficult. Take care of your hands with the Lavishea Lotion Bars. Enter to win today!
Latest posts by AllFreeCrochetAfghanPatterns
(see all)