More and more I see rustic home decor and style ideas all over the place. There is something so warm and welcoming about a room filled with simple items. Make your home feel like home with these rustic crochet afghan patterns; you'll be surprised at just how easy it is to create a wonderfully rustic space with just an afghan or two.
Rustic Autumn Patterns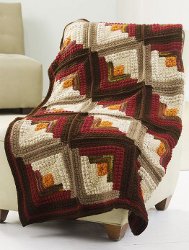 The leaves are about to turn and it's time for you to turn your hook to some autumn inspired patterns. Beautiful oranges and browns make these crocheted afghans natural and simple. Sometimes bright colored afghans are great, but the muted colors of these afghans lead to a peaceful setting in your home. Curl up with one of these afghans and a cup of tea by the fireplace as the autumn leaves fall outside….ah, it sounds so relaxing right about now, don't you think?
1. Autumn Spice Stripes Afghan
2.  Meridian Throw
3. Fall Flowers Afghan
Cabin Fever Afghans & Crocheted Quilts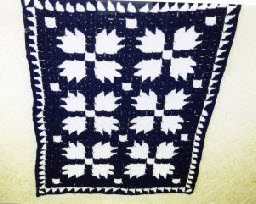 Whether you have a cabin of your own or you just dream oh having a cabin in the forest, these patterns will bring that cabin charm to your home. Log cabin blocks are traditionally used in quilts and each strip is inspired by traditional log cabin walls. The Log Cabin Afghan is similarly structured and it's a perfect solution for crocheters seeking this rustic style. Speaking of quilts, crocheted afghans are often inspired by quilts. The Navy and White Block Afghan and the Evening Star Block Afghan are both gorgeous crochet patterns that will bring an old time charm to your home.
1. Log Cabin Afghan
2. Crocheted Ripple Afghan
3. Navy and White Block Afghan
4. Evening Star Block Afghan
Rustic Lace Afghans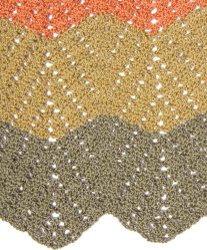 You can't have a rustic home without a bit of lace. Well, you probably can, but these patterns are just too amazing to pass up. Lacy crochet afghan patterns are intricate and lovely patterns to try. People will be in awe over the beauty of these afghans. Place one at the end of a bed or draped over a chair and you'll find that it will create an instant rustic and vintage feeling in your home.
1. Double V-Stitch Ripple Blanket
2. French Country Throw
3. Dreamy Diamond-Ghan
Do you have a rustic style in your home?
Latest posts by AllFreeCrochetAfghanPatterns
(see all)