A roadtrip this past weekend meant that I spent roughly fourteen hours in the car. While I would have much preferred not to be in the car for that long, I did have one consolation: my journey took me far to the north, where the changing of the leaves was already well underway. It was always a delight to round some corner and find myself faced with a new stretch of sun-dappled, bright-colored landscape.
This weekend, I intend to enjoy the delights of an autumn woodland up close, rather than from behind car windows. If I could, I would spend the entirety of the season camped out in a cabin in the woods. The crackling of a campfire, the smell of hot spiced cider, the weight of a growing blanket in my lap as my needles click contentedly away… there's just nothing like it.
If you aren't lucky enough to have access to a rustic woodland getaway, fret not. We've brought you a collection of picturesque free knitting patterns to distract you from your city-stranded woes. Whether you cast on a homey knit hat pattern, a knit sweater pattern, a picturesque knit blanket pattern, or even a decorative pattern, these easy knitting projects will allow you to surround yourself with cozy homespun charm. And if you are one of the lucky few escaping to the woods, you'll want to bring your needles with you. These patterns will fit right in.

Homey Knit Hat Patterns
---
There's something special about pulling on your favorite hand-knit hat and heading out for a walk in the woods. Simple, lightly textured, and undeniably snug, these knit hat patterns are the perfect way to cozy up to the great outdoors.
Backwoods Essentials: How to Knit a Scarf
---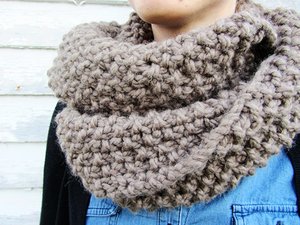 A knit scarf pattern or infinity scarf pattern is one of your first lines of defense against the growing chill, making it a great place to make use of the thick, cozy stitch patterns beloved of rustic tradition. Earth tones and natural fibers give even the trendiest cowl knitting pattern a homespun feel.
Fisherman's Rib Scarf and Cowl
Log Cabin-Worthy Cardigans and Knit Sweater Patterns
---
They don't call this sweater weather for nothing! Crisp evenings around a campfire are enough to inspire anyone to learn how to knit a sweater or cardigan. Thick and soft for unparalleled comfort and warmth, simple enough for practical outdoor wear, these natural-looking knit sweater patterns are everything you want in autumn wear.
Knitting a Blanket or Shawl: The Cozy Cottage Collection
---
Shawls, afghans, and throws are the very essence of rusticity. There's no more comforting than bundling up against the cold with a knitted blanket. These laid-back knitted shawl patterns are perfect for whatever errand calls you away from the fireplace, and if you want to keep your lap warm and your hands busy, there's no better way than learning how to knit a blanket.
Countrify Your Home with Rustic Knitted Decor
---
There's no reason to limit your rustic knitting projects to clothes! Clothe your home in comfort and whimsy with these woodland-themed kitchen and decorative easy knitting patterns. The Garter Stitch Oak Leaves and Knit Maple Leaves would look gorgeous sewn together as a door wreath, or protecting your tables as coasters.
Rustic Tea Cozy


These rustic knitting patterns are only a few of my favorites; for a more extensive list, check out Rustic Style: 65 Easy Knitting Patterns!
Do you have any favorite rustic knitting patterns?
Latest posts by AllFreeKnitting
(see all)