One of my friends was born and raised in Georgia. She doesn't have a trace of an accent, but you can tell that she came from the South based on her impeccable manners, love of sweet tea, and obsession with Carrie Underwood. As if that isn't enough proof of her roots, she has another tell: her style. She reveals her inner cowgirl through fashion, favoring earth tone clothing and accessories that are comfortable, cute, and long-lasting. I've rounded up some free crochet patterns that were inspired by the sunny states to the south.
Scarf, Shawl, and Crochet Cowl Tutorials
If you want to give yourself a dose of southern charm on the double, check out one of our crochet scarf patterns or crochet cowl tutorials. You can learn how to crochet a cowl or scarf that goes great with your favorite pair of jeans. The same rule applies for crochet shawl patterns. which work up in no time. If your outfit needs a little extra something, just throw on one of these crochet pieces and head out the door. You'll look stylish and sensible at the same time.
Endless Summer Shawl – An eye-popping wrap that resembles a brilliant desert sunset. Learn how to crochet a shawl with this elegant and easy pattern.
Grand Canyon Cowl – This rugged yet playful cowl is ideal for keeping out the chill. It gives warmth without weight.
Painted Desert Scarf – This free crochet scarf pattern takes a more abstract approach to natural beauty. The squares are more formulaic than what you'll find in a desert setting, but the colors blend splendidly.
Southwestern Crochet Cowl – A cowl pattern that looks superb with variegated yarn.
Sunset Shawl – The perfect wrap for warm weather, this shawl is amazingly airy.
Crochet Afghan Patterns
Southern states may be warmer than their neighbors to the north, but it can still get chilly after the sun sets. These afghan blanket patterns are simply stunning. These crochet wraps will keep you cozy and looking stylish at the same time.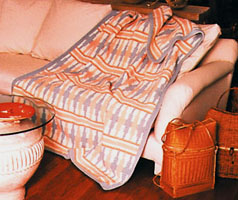 Painted Desert Crochet Afghan – A gorgeous crochet afghan pattern that calls to mind a summer sunset. With its playful fringe border, this blanket is as fun as it is pretty.
Sweet Tea Granny Square – This granny square for beginners is a cinch. Make this crochet square and you'll practically taste the sweet tea.
Desert Canyon Afghan – Pale blue and dusky orange yarn combine to create a beautiful afghan. The subtle stripes add interest without overwhelming the calming color palette.
Southwest Jewel Square – This easy granny square pattern is a great building block for a Southern inspired afghan. Sky blue, gold, and bright orange set off the muted brown in this square.
Patchwork Pinwheel Afghan – Southerners are known for their national pride. This afghan is patriotic without crossing the line into gaudy.
Who's your favorite fashion icon from the South?
Latest posts by AllFreeCrochetAfghanPatterns
(see all)