Every year like clockwork, I get the home improvement itch around mid-March. There's something about the promise of spring that gets my creative juices flowing and puts me in the mood to decorate. I come from a family of DIY-ers, so I've always taken pride in seeing a project through from start to finish. Whether it's re-finishing the deck or sprucing up the living room with a few new throw pillows, DIY home décor is an energizing and confidence-building experience I suggest everyone partake in this spring.
Even if you don't know your way around a tool kit, DIY home décor doesn't have to be a scary process. There are tons of simple ways to freshen up any room in your house. The key is to use the tools you have on hand. In this case, we mean your knitting needles! Knit home décor is a budget-friendly, creative way to accessorize your home with unique and personal touches. From classic dishcloth knitting patterns to brighten up your kitchen to cozy and welcoming knit afghan patterns, there's a way to refresh every room in your house with an easy knitting project.
Spring Renewal: DIY Home Decor Knitting Patterns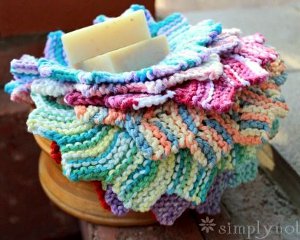 Garter Stitch Pouf – One of my favorite DIY home decor knitting patterns on AFK, the Garter Stitch Pouf is a simple and stylish way to add a pop of color to any room in your house.
Lace Edged Linen Coasters (featured image) – These gorgeous knit coasters are a lovely way to add a dainty, vintage-inspired vibe to your kitchen or dining area.
Vintage Button Pillow Cover – This darling knit pillow pattern features a simple stitch design with a charming button applique.
Granny Square Afghan – This pastel-colored blanket is perfect for adding a springtime feel to any room in your home or apartment.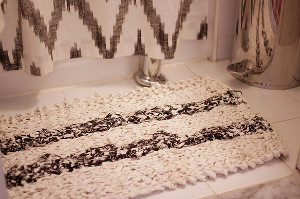 Moss Green Cushion Cover – The fold-over button construction of this knit cushion pattern is simple, stylish, and full of personality.
Hula Hoop Rug – Great for small areas, the Hula Hoop Rug is a whimsical piece you'll love being able to say you made.
Scrap Bath Mat (shown) – Save those old t-shirts, knitters! Knit a shabby-chic bath mat with this fun and easy knit rug tutorial.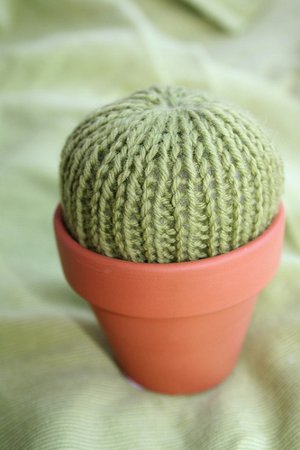 Lacy Pyramid Knit Afghan – This stunning mint green knit afghan pattern has a dazzling pyramid lace design.
Soft Cotton Dishtowels – Timeless elegance meets everyday practicality in the Soft Cotton Dishtowel pattern.
Lace Hand Towel – These pretty knit hand towels are a dainty and delicate way to make guests feel right at home.
Leafy Washcloth – Nature lovers, rejoice! The Leafy Washcloth is a subtle and stylish way to incorporate nature themes into everyday home decor.
Heirloom Washcloths (shown) – These cute and colorful scalloped washcloths are a fun way to brighten up your morning routine in the bathroom.
Sugar'n Cream Stripes Placemat (shown) – Knitting placemats is a great way to learn a new stitch or get back into the swing of knitting after a short hiatus. This cute striped pattern is a fun way to get prep for springtime festivities.
Summer Fruit Potholders – These bright potholders are a fun way to incorporate a citrus-y style to your kitchen.
Knitted Jam Jars – Put a sweater on it! This simple stashbusting pattern is a great way to add personality to a bare jar or container.
Pincushion Cactus (shown) – The plant that never needs watering! This cute and quirky knit pincushion pattern doubles as a fun DIY home decor option.
Bonus! 
---
We are excited to be giving our Stitch and Unwind readers the opportunity to win a fabulous collection of yarn lover's favorites. Two winners will be eligible to win this great collection! We will randomly pick a winner on March 10th, 2015.
---
Will you be knitting any home decor items this spring?
Latest posts by AllFreeKnitting
(see all)