Stained glass is exquisite and beautiful in every single way. Pieces of colored glass are fused and pieced together to create huge windows in churches and cathedrals. Stained glass even dates all the way back to the 4th and 5th centuries. Why am I going on and on about stained glass? Because there are very few ways you can capture the beauty of true stained glass in your home unless you A.) Buy a stained glass window to install in your home, B.) Make your own faux stained glass, or C.) Crochet or knit a stained glass afghan. Since you're here reading Stitch & Unwind, I'm going to bet that you'd like to recreate stained glass by using yarn. Let's get started!
Stained Glass Afghans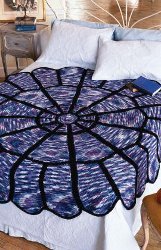 I can't think of a better way to use up some brightly colored yarn from my stash. These stained glass inspired patterns for afghans just can't be beat. Crochet the Round Stained Glass Afghan and bring in the charm of round rose windows of Medieval cathedrals. The real beauty of these afghans is the black yarn used to create the borders or edges along the brightly colored sections. Black yarn truly makes bright colored yarn "pop" as if light was shining through these afghans.
Quick Stained Glass Afghan
Stained Glass Motif Afghan
Round Stained Glass Afghan
Stained Glass Rainbow Afghan
Delicate Stained Glass Crochet Throw
Stained Glass Ripple Afghan (knit)
Squares & Scarves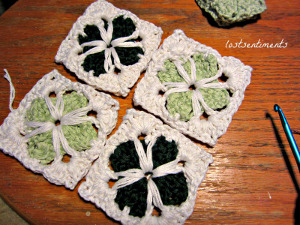 It's time to piece together your own crocheted stained glass window. Try the Cathedral Crochet Motif with your scrap yarn and you'll have yourself a lovely stained glass throw in no time at all. Use brightly colored variegated yarn for the Framed Framed Church Windows 6 Inch Square and you'll get a random rainbow glass effect quite easily. Want to wear your stained glass crochet? Make a scarf and you'll have a truly unique piece of crochet that everyone will envy.
Cathedral Crochet Motif
Framed Church Windows 6 Inch Square
Stained Glass Scarf
Have you crocheted anything inspired by stained glass?
Latest posts by AllFreeCrochetAfghanPatterns
(see all)