There are two kinds of people: those who would rather be hot than cold and those who would rather be cold than hot. I am definitely one of the latter. My philosophy is that you can always put another layer on, but eventually, you have to stop taking layers off.
It's good, then, that I live in the upper Midwest and get to spend most of the summer under 90 degrees. Afghan patterns are a regular part of my life, with blankets in every room of the house for easy access. I'm a little chilly? No problem. Just grab an afghan and cuddle up.
However, whether your summer means 120 degree heat and spending most of your time indoors or highs of 70 and frequent rain, you can always use lightweight afghan patterns for those I'm-a-little-chilled moments. Sometimes you just need the comfort of a cozy throw blanket for all to be right with the world.
Plus, if you make afghan patterns for summer, there's no rule that says you can only use them for the summer months. These afghans will also be great to use on fall, and even winter, days.
The afghan patterns below use a variety of stitches and crochet methods to create their great designs, and their bright colors scream summer sun. If you ever get chilly on summer days, you need to start working on this patterns!
This afghan uses variegated yarn and corner to corner crochet to create a beautiful blanket with diagonal stripes. The changing colors look like waves rippling on the shore. Don't want a blue afghan? Switch to a bright green or yellow variegated yarn to have the same summery effect.
This afghan pattern uses large crochet motifs to create its lovely design. Every crochet square is a flower, and each petal mimics the shape of a prickly pineapple. Talk about fun and summer! You can make this pattern in whatever bright color suits your home, or mix it up with every square!
If pineapple's not on your list of favorites, maybe watermelon is. This afghan will make your mouth water for some juicy watermelon with its fun blend of bright colors. Also, because it's a granny square afghan, it is the perfect project to bring on-the-go because each square is super portable.
Looking for more granny square patterns? This free Flower Crochet Granny Squares eBook will get you started on some great projects!
The stitches in this pattern line up like flowers in a field, with V-stitches acting as stems and cluster stitches acting as mini tulips. This afghan is a super easy way to have an intricate crochet design that is whimsical but also elegant. The pattern is finished off with an eyelet edging, the perfect cherry on top.
The shell stitch is the ultimate summer stitch with double crochets fanning out from the center, really looking seashells. These rows of shells in blues and creams will take you straight to the beach, lounging in the summer sun.
The shells in this afghan are even larger than in the last one, with lace designs keeping the blanket light and airy. Each shell fans out from between the ones in the last row, making a fun, overlapping design. Plus, the rippled edges from the outer shells make this afghan unique.
If you want more summer afghans, check out these Tropical Summer Crochet Afghan Patterns!
This lace pattern is very beautiful, with crocheted ovals reaching out to their connecting stripes by little shoots of yarn. Like the last afghan, this pattern is a lacy one, meaning it is open to let air through without letting in the chill. This afghan will look lovely draped over the back of your couch.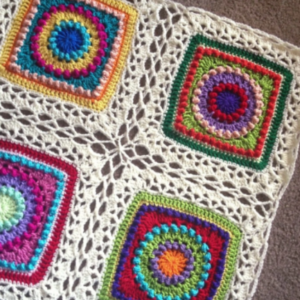 This Celtic Lace Join can make any of your granny square afghan patterns into a summer delight by creating lacy openwork between your squares.
I hope you enjoyed reading about these patterns, and that you found your next beautiful afghan. Make great use of your summer down-time with one of these afghan patterns.
Which of these afghan patterns do you want to try? Let us know below in the comments!
Latest posts by AllFreeCrochetAfghanPatterns
(see all)