If you're tired, you are never alone. People don't get the right length or quality of sleep most of the time, which is why we are here to help. These 20 Crochet Patterns for a Good Night's Sleep are designed to help you be more comfortable so you can sleep better and have sweet dreams at night. Try draping yourself with a cuddly crochet afghan while you rest your head with one of our crochet pillow patterns. We just want you to be proud of your crochet skills while feeling nice and comfortable with your handiwork at the same time.
Crochet Afghan Patterns
Everyone loves curling up with their favorite blanket, so fall asleep with one of these. Crochet afghans for yourself are important, but often times it's more important to make sure baby feels safe and warm, too. Try working up a crochet afghan for yourself or make a cute baby blanket to last through the night.
1. Sweet Dreams Crochet Blanket
2. Crochet Bunny Lovey Blanket
3. Daffodil Baby Blanket
4. Striped Floral Crochet Afghan
5. Oversized Chevron Crochet Afghan
6. R&R Crochet Blanket
Crochet Slippers and Socks
Some people find that falling asleep with socks on is the only way to calm their legs or keep their feet warm through the night. Whether you're concerned with that or just want to wake up to something warm in the morning (not including your bed), try these crochet slippers and socks for those especially chilly mornings and evenings.
1. Cute Bow Crochet Slippers
2. Button Strap Crochet Slippers
3. Colorful Summer Slippers
4. Chunky Knee High Socks
5. Rainbow Sherbert Socks
Sleepytime Crochet Patterns
Create just the right sleep environment for you (and your cat) with these crochet patterns. All of these free crochet patterns will help keep your surroundings cool, dark, and quiet for you to get just the right sleep you need to feel rested in the morning.
1. Sleepy Owl Mask
2. Chevron Crochet Curtains
3. Warm Wick Candle Holder
4. Celestial Pillows
5. Simple Crocheted Cat Bed
Luxurious Crochet
Make it easier to fall asleep when all of your worries and cares are washed away with these unique free crochet patterns. Keep your muscles from feeling sore and tired when you hit the sheets and instead feel relaxed and luxurious with these spa set crochet patterns.
1. Luxurious Bath Set
2. Amazing Grace Spa Set
3. Luxurious Crochet Washcloth
4. Ice Pack Pillowcase
How do you like to relax at night?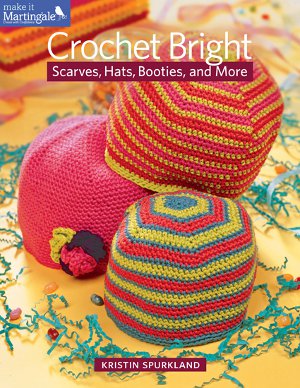 PLUS:  Enter to win a copy of Crochet Bright!  Crochet Bright by Kristin Spurkland is a wonderful crochet pattern book that includes 14 stylish crochet designs. You'll find a nice variety of crochet patterns to work up including crochet scarves, hats, baby booties, jewelery, and more.
The deadline to enter is June 25, 2014 at 11:59:59 p.m. Eastern Time. Enter now for your chance to win!
Latest posts by AllFreeCrochet
(see all)