One of the great things about summer vacation for kids is that they have a lot of time to explore topics they might not bump into in a classroom.  If you've got a few rather rambunctious kids running around the house, this summer might actually be the perfect time to teach them to knit.  Knitting is a great way to bond with youngsters, especially if they've expressed an interest in your wooly activities in the past.  Teaching kids to knit is a fun, positive experience.   Here are a few tips to keep you and your eager new knitter motivated and happy:
Let the pupil set the pace.
Start with a basic project like a dishcloth or a garter stitch scarf.
Allow her to do things for herself.  Don't swoop in and fix every dropped stitch.  Instead, show her the way to identify a dropped stitch and how to fix the problem.  Once your knitting novice really gets going, be available, but try not to hover.
Give lots of positive feedback and encouragement.  Learning a new skill can be difficult, and people learn at different paces.  Being patient with your new knitter will go a long way towards making knitting a fun activity.
Set aside regular knitting time.  I find that knitting in the evenings is a great way to wind down after a busy day.  Find a time that works for you and your student and stick to it.
If you're not sure what patterns would be suitable for a beginner, try out one of these basic knitting patterns.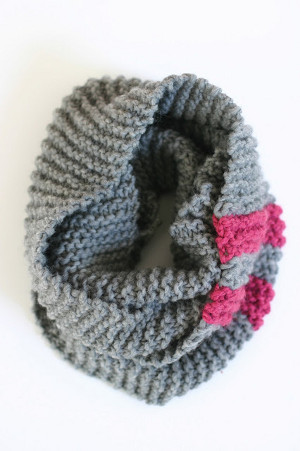 First Scarf Tutorial – Complete with extensive step-out photos, this is a great place for beginners to start.  It doesn't get much easier than a straightforward garter stitch scarf.
Super Stockinette Dishcloth – Introduce your pupil to the purl stitch with the stockinette stitch.  Young knitters can quickly finish this dishcloth and move on to more challenging projects.
Easy Cozy Cowl – Make a cute, cozy cowl with this basic pattern.  Little more than a garter stitch scarf sewed end-to-end, this is a quick project that will satisfy new knitters.
Beginner Basketweave Dishcloth – The basketweave pattern will help new knitters learn the difference between the knit and purl stitches.  The small size of this project is perfect for those who want a quick project.
Lucky Scarf – Once your student has learned knit and purl stitches, the basic rib pattern of this scarf is a great way to practice.
Do you have any advice for teaching new knitters?
Latest posts by AllFreeKnitting
(see all)