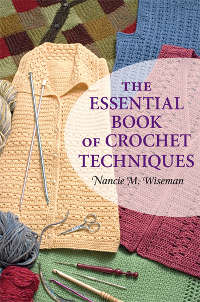 Whether you crochet all the time or you're just beginning to crochet, this book by Nancie M. Wiseman is essential to your crochet collection. I was excited when I picked up this book because of the wide variety of techniques in crochet that I've never tried before. Naturally, the book starts out with the basics, which is great to have on hand as a refresher or even as a source to help your friends learn how to crochet. As I say, when in doubt, go back to the basics. Then this book moves right on into gauge, seams, edgings, button holes – you name it this book has it! The layout of this book is nice and features clear color photos and a clean and simple page design. It's also great to see that this book includes a symbol key for chart patterns since many crocheters are not familiar with this type of pattern these days. By the end of this book, you will have been introduced to the world of crochet, filet crochet, intarsia, and tunisian crochet. I highly recommend this book to both beginners and experienced crocheters alike.
I don't care if you're an expert crocheter and know "everything" about crochet. Do you have this book? No? Well, let me just say that this book is great and every crocheter needs it. After all, it is "essential" for a reason. Even if you've got the art of crocheting down to a science, I bet this book will help you or someone you know learn to crochet the right way. With so many techniques and stitch patterns out there, this book is good to have on hand for when you just need to go back to the basics.
Is there a crochet technique that you have trouble with?
Latest posts by AllFreeCrochetAfghanPatterns
(see all)