Tomorrow is the first day of spring! Welcome the first day of spring by crocheting a springy baby blanket pattern. I've chosen my three favorite spring patterns to share with you. These are popular patterns and it's easy to see why. Full of blooming colors and wonderful designs, these blankets are irresistible.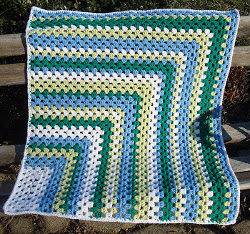 Spring Meadows Baby Blanket – I like to think of this baby blanket as an artistic piece. Of course, crochet is always artistic. What I mean is that by crocheting rows and rows of four different colors in a different order, this blanket seems to be an expression of what a spring meadow looks like. With blue skies, blue birds, and blue streams, a spring meadow is indeed blue. White clouds, white tailed deer and white dandelion seeds can all be found in spring meadows. Green grasses, green grass hoppers, and green clover patches are all reminiscent of spring meadows. The bright yellow sun, tall yellow reeds, and yellow bellied chickadees will welcome spring. See, this baby blanket is all about spring in more ways than one. It's a great option for a unisex baby blanket and a fun blanket to take on-the-go. If you've crocheted a granny square, you won't have a problem trying out this granny square blanket pattern as it follows some of the same basic steps. Best part is, you don't have to worry about joining squares to complete the cheerful baby blanket.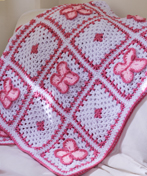 Crochet Butterfly Blanket – If there's one thing little girls love, it's butterflies. My little sister has loved butterflies ever since she was little. Her room was full of butterflies – hanging from the ceiling, posters on her wall, butterfly pillows – you name it. She would have loved this blanket when she was younger and I know many little girls would love this blanket today. Crochet a baby blanket that a baby or toddler can enjoy for years to come. You can vary this pattern by crocheting different colored butterfly wings for each square. To make it easier, you could use variegated yarn for a spontaneous surprise. No butterfly will be alike.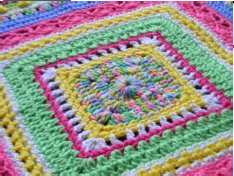 Fairy Tales Baby Blanket – Some of my favorite memories from my childhood involved fairy tales. My mom says I used to sit in front of the television and watch that same Disney movie over and over again without ever getting bored. Stories fascinated me then and they still do today. Crochet your own whimsical story by following this baby blanket pattern. Using left over scraps of yarn, this project is a stash-buster for sure. No two stories are alike, so no two Fairy Tale Baby Blankets will be either. Be inspired by this pattern to start being a little more adventurous with your crocheting. Just like a story, this blanket pattern has layers of different stitches and yarn. Hey, a "yarn" is another word for story too. Little girls will love the fairy tale you tell with this baby blanket.
Which spring baby blanket do you want to try?
Latest posts by AllFreeCrochetAfghanPatterns
(see all)