As much as we love traditional knitting patterns like knit scarves and hats, it's sometimes fun to mix up your knitting repertoire. Trying a new pattern or using yarn in a way you haven't yet thought of is not only exciting, but a great way to discover a hidden talent.
Spring is all about refreshing your look, so why not put those knitting needles to good use and make yourself a unique DIY tote bag? Not only are free bag patterns an interesting way to try out different knitting stitches, they're both practical and economical. Give back to the environment and save money with a trendy DIY tote bag!
There are plenty of uses for a free bag pattern. Stow a couple in your trunk for re-usable grocery bags or knit one with some cute appliques for a stylish fashion statement. The best part about knit bag patterns is that you can never have too many. Make one for every day, one for a fun night out on the town, even one for the beach! Depending on your mood, there's a DIY tote bag for every occasion.
Free Bag Patterns
Knitted Grocery Bag – Perfect for a quick weeknight supermarket run, the Knitted Grocery Bag is an essential and re-usable tote for your fruits and veggies.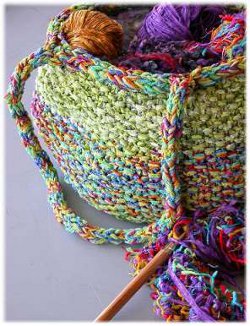 Cabled Boho Bag Pattern – Go boho, go beautiful! Have fun with this free-spirited knit bag pattern.
The Ultimate Bag – The perfect balance between practicality and style. Pick the right kind of yarn and this knitted bag pattern will become an indispensable element in your wardrobe.
Rainbow Market Bag – Produce aisle-chic! Whoever said it wasn't easy being green never saw this free bag pattern!
Jumbo Pineapple Bag – The name says it all!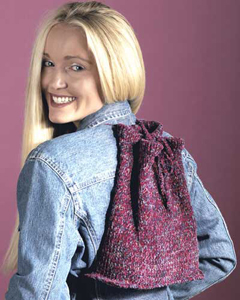 Dalmatian Purse – This trendy knit bag pattern is the perfect black and white accessory for year-round wear. This eye-catching bag looks great with a pair of casual jeans as well as a dressy red top.
Colorful Knit Tote – Tote more than yarn in this colorful knit bag. Big enough to tote all your knick knacks, baubles, and treasures with you wherever you go!
Quick Knit Backpack – Pretty and practical, the Quick Knit Backpack is a fun and functional way to stow your travel essentials.
Have you ever knit a bag?
Latest posts by AllFreeKnitting
(see all)