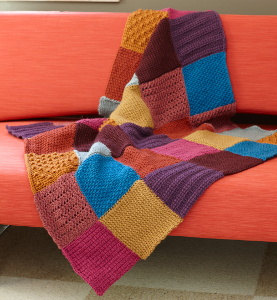 I think it's safe to assume that by now you've already mastered the single crochet stitch, the double crochet stitch and all the other basics. Are you ready to move on to more advanced crochet stitches? I thought so. It's time to enter the world of Tunisian crochet patterns. The Tunisian crochet stitch is a bit more challenging in that you do not turn your work and you are always working on the right side. And in case you were wondering, the Tunisian simple stitch is also considered the Afghan stitch, for future reference while reading crochet patterns. If you are a more visual learner you can watch these videos on How to Crochet a Simple Tunisian Stitch.
The Tunisian stitch can pretty much be used for any type of crochet pattern, but it just looks stunning on afghans and blankets. Take for example, the Granny Square Tunisian Throw. It catches my eye every time I look at it, and maybe it has something to do with the bright crochet colors, but the design itself is gorgeous. The geometric design comes with an assembly diagram so you know how to put it together, but I'm sure you can switch it up if you'd like. Although Tunisian crochet patterns like the Tunisian throw, are listed as an easy skill level, it still might be challenging for those just starting out with this new stitch.
If you want to start out with something on the smaller side then you might be interested in the Pretty Pebbles Dishcloth. This design is quite simple to crochet if you know how to do the Tunisian stitch. And you can never have enough dishcloths! These make great housewarming or Christmas gifts, too.
If you're interested in learning more about Tunisian crochet patterns then check out our roundup How to Crochet the Tunisian Stitch + 8 Easy Patterns.
Have you been daring enough to try the Tunisian stitch? If so, what have you made?
Latest posts by AllFreeCrochet
(see all)